12th Annual National Book Festival
September 20, 2012|14 Views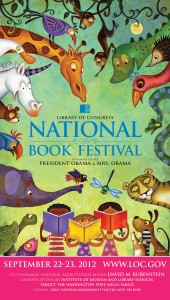 Looking for something fun and exciting to do this weekend? Well you are in luck because this weekend the Library of Congress is hosting their 12th annual National Book Festival.This is a two-day event from Sept. 22-23 on the Mall in Washington DC. The Washington Post staff will be working the tables under the different pavilions, so you can talk to some of your favorite journalists. You will get a chance to hear and see 125 authors, illustrators and storytellers.
This festival gives you the opportunity to view many different genres of books; for example, children's, teens, fiction, mystery, poetry and many more. You will find almost every genre. There are also many different authors for every type of genre: Geraldine Brooks, T.C. Boyle, R.L. Stine, John Green, and Jerry Spinelli, to name a few.
Since it is on the Mall, transportation is easy; you can take the Metro. It is recommended to wear comfortable clothing and good walking shoes. If, you are feeling out-going, you could join those who choose to wear costumes from different books or dress up as their favorite authors.
Around the Mall, there is a wide selection of restaurants, so it is advised that you bring money. Or, you can buy food from at the festival. The book festival only comes once a year, so you do not want to miss out.