"Poetry Out Loud" Adapted for Freshmen English Classes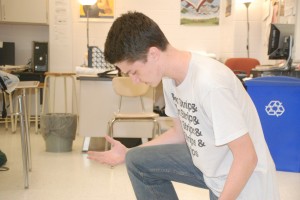 On Tuesday, June 4, a group of five freshmen displayed their talent by participating in a contest against each other where each of them memorized and recited a poem of their choice.
"Poetry Out Loud" is a nationwide contest started. English teacher Anne Ehlers decided to adapt the contest for use in her classroom, and asked several other 9th grade teachers to join in. The assignment was to choose a poem and recite it to the class with as much enthusiasm and rhythm as possible. The winners from each class were chosen to compete against one another in a final completion at lunch time.
The idea of this contest was not only to get students to thoroughly understand and perform their poems, but to give them a chance to see others perform from different classes. The contestants were judged on components such as voice and articulation, dramatic appropriateness, level of difficulty, understanding of the poem and overall performance.
The winner of the final contest, David Acevedo, received a $25 gift card to Barnes and Noble while the second place winner, Tarinee Chanatup received a $10 gift card to Coldstone Creamery and third place winner Ruth Vil received a mug. "The best part about the contest was performing and getting it over with," said Acevedo. Acevedo recited "O Captain! O My Captain!" by Walt Whitman.
The students not only memorized the poems, but interpreted them dramatically as well. They memorized poems from such as Walt Whitman, Shel Silverstein, and Maya Angelou. "It was fun to see everyone perform different kinds of poems," said Chanatup.
"Poetry Out Loud" was successful for its first debut at RHS. The English Department hopes to continue to connect the art of poetry to students.