Recap of Baseball 2011-12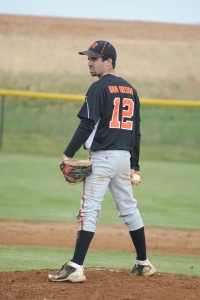 After a four game run in the 3A West playoffs, the boys' varsity baseball team suffered a heartbreaking loss in the regional finals to the North Hagerstown High School Hubs on Friday night.
Rockville fell into a 5-0 deficit early in the ball game, and RBIs from senior Sam Kane and junior Greg Brown were not enough to complete a rally, as the Rams eventually lost 8-3. Rockville went into the playoffs with a first round bye after a very impressive season. They boasted a 11-5-1 regular season record, while North Hagerstown had a 19-1-1 record after regular season play.
During a close first inning, both teams played well defensively as the inning ended 1-0 in favor of NHS. In the second, the Hubs loaded the bases before hitting a grand slam to go up 5-0 early. Despite scoring three runs in the third inning to bring the game within two runs, the Rams could not complete the comeback, consequently ending the postseason for Rockville.
Twice in the last four innings of the game Rockville managed to load the bases, but good pitching and defense on the part of the North Hagerstown players stopped the rally attempts. "It was just unfortunate," said sophomore Joe Kelly, "We had the bases loaded and [junior] Greg [Brown] hit it directly to the right fielder for the last out of the inning."
The loss at NHS, although disappointing, did cap one of the most successful postseasons by a Rockville baseball team in recent years. The baseball team was by far the most successful sports team this year at RHS, with few teams winning more than one playoff game. Although there are multiple seniors leaving at the end of this season, head coach Farron Riggs has players to build around and play with. Hopefully, the team can improve even more during the offseason and make an even better run next year.