Gregory Prince Preforms Senior Commencement Speech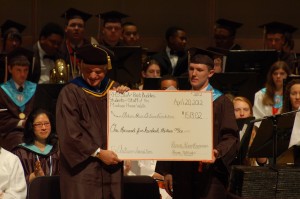 Black robes and tassels filled the stage of Strathmore Hall on May 31. The anticipated day had finally come for the class of 2012: graduation day. Gregory Prince, Co-Founder of the Madison House Foundation, performed the commencement speech for the occasion.
After graduating as valedictorian of his class from the University of Dixie in Utah, Prince attended graduate school, earning a PhD in pathology. After, Prince co-founded a biotechnology company that focused on preventing disease in youths. The company is called Virion Systems and Prince currently serves as president. The impact of science on technology in Prince's career was apparent as he advised and counseled graduates during his speech.
Graduates not only benefitted from Prince's advice on how to succeed in a technology-fueled economy, but also of the more emotional and sentimental aspects of the commencement. "The most powerful part of the speech was when he expressed pride and love for his son and all the support he got from the people around him," said Bethany Slingluff, a graduate of the class of 2012.
Prince opened his speech by reviewing the rapid changes in technology that have occurred over the past decades and what that meant for being successful in today's world as high school graduates and beyond. Prince's success in the worlds of business and innovation make him a knowledgeable resource on the subject. He has spent time at NIH, John's Hopkins and has gone on to publish scientific works and work with multiple non-profit organizations.
The speaker shared his closing thoughts for graduates to keep in mind as they reached adulthood… "First, master the technology that will help you succeed in a global economy and second bring along those with special needs…do unto others as they would have you do unto them" said Prince. As an established figure in non-profit organizations and the field of medicine, the honored guest was an integral part of the momentous occasion.