Acrobatic Gymnist Profile: Lital Elfassi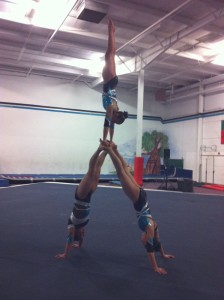 Acrobatic gymnastics, or Acro, is a unique sport that is set apart from regular gymnastics because it incorporates dance, balance, strength, and teamwork within a group of three people who compete together in various competitions.
Freshman Lital Elfassi has been doing Acro for five years and has competed in various locations including Switzerland. Though Acro does not compete in the Olympics along with gymnastics, it has its own high level competition called "Worlds," which is its own form of the Olympics. Elfassi will be trying out for an international competition which is the step before moving onto Worlds.
Elfassi first started out Acro when she was nine. While her sister was taking a gymnastics class, Elfassi played around on the side entertaining herself with backbends. Elfassi said, "My coach just came over to me and said I should try Acro and I did, and loved it." Elfassi has been participating in Acro ever since.
Elfassi has been placed onto the Junior Olympic National Team in USA Acrobatic Gymnastics and has been selected to compete internationally for two years in row. Elfassi's head coach Juli Eicher said, "Without a doubt, if Lital keeps up her hard work, she will reach the highest level of competition next season becoming an Elite acrobat." Many younger athletes in the gym look up to Elfassi as a model for their own acrobatics.
Practices are five days a week for three and a half hours each day. For warm-ups the Acro team runs, conditions and stretches before getting into their groups to practice their routines. There are two types of routines: a balance routine and a tempo routine. In a balance routine the person held in the air by the others performs different holds and shapes while balancing on the hands of their partner. In a tempo routine the two bases make baskets for the gymnast on top to flip off from. This helps them to succeed by making their routines look more interesting and difficult.
Elfassi receives support from her parents and two sisters. Because this sport has such high demands her parents have to be flexible, and even sacrifice family vacations so she can travel internationally for Acro. " What I love most about Acro is the opportunities it brings, and I love being able to do something not many people can do." Elfassi said.