FROM THE ISSUE: Students Take on Three Varsity Sports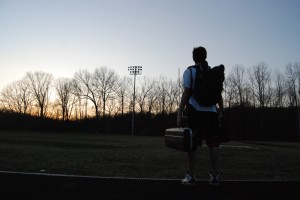 The decision to play a single varsity sport in high school is a big commitment for any student and their families, but at RHS there is a small group of highly committed and talented students who make this commitment three times per year, dedicating virtually every day after school to practicing and perfecting their sport.
Besides the physical benefits of playing high school sports and receiving a varsity letter, students who participate in varsity athletics year-round not only see great improvement on the sports field, but also in the classroom. Additionally, sports also help students cope with personal issues and build a more positive body image.
This year, senior Alexis Leary participated on the girls' varsity level of field hockey, swimming and diving and lacrosse. Leary shares that the best part of playing during all three seasons is staying busy and having the opportunity to get to know her peers better. "As much as I complain about being too busy or tired from practice, if I didn't participate, I would be so bored," said Leary.
Leary adds that sports offer a great way to vent and de-stress from all of the different responsibilities students take on. Given the opportunity and experience to participate on these teams every day after school, Leary understood the importance of having a set schedule. Between school, sports and a job, she is able to set the right amount of time for each responsibility while incorporating time for her friends.
Much like Leary, students with competitive attitudes will also find that sports help to channel these emotions in a positive direction. Science teacher Seth Kenton agrees with Leary coaching three varsity sports at RHS: football, indoor track and field and outdoor track and field. "I played three varsity sports in high school and believe that if you love competition, you should be around sports," said Kenton
This year senior Tommy Broussard participated in cross country, wrestling and outdoor track and field. In addition to staying in shape year-round Broussard fills his free time with ample school work, meaning the he must manage his time wisely. "Other than staying in shape, sports are a great bonding experience and help you stay away from any bad or illegal pressures," said Broussard.
It is understandable that not all students have the same passion for sports as others. Whether it is a school club, violin lessons or an after school job, students should not go home every day after school and spend a majority of the time loafing. Kenton said, "The people that are most successful at school are the ones that have outlets for their energies."
Students participate in all three seasons for a variety of individual reasons. Some want to spend more time with their friends, while others need ways to channel their emotions. Whether the issue is time management, exercising to become healthier or a adding to a college resume, the benefits of physical activity transcend the athletic field.