Ruben's Restaurant Review: Caf Shilla Bakery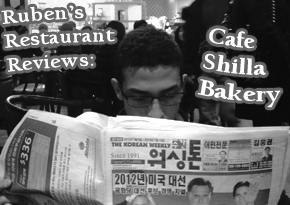 February 16, 2012|7 Views
Although one's parents believe dinner should always come first before dessert, Caf Shilla Bakery breaks the rules and combines them both.
Caf Shilla Bakery is a Korean-American bakery that features a variety of fresh baked pastries, desserts and beverages. Fortunately, it is very affordable, and everything is fresh out of the oven. Prices can range from $1 to $5 on baked goods, beverages and desserts. The atmosphere attracts everyone from college and high school students to the elderly. The restaurant is conveniently located off Veirs Mill Rd. at Twinbrook Shopping Center.
The staff recommends the croquette, which only costs $1.50. I decided on the Italian croquette containing: stuffed crab meat, ham, onion, pickles and melted cheese, all enveloped inside a sugar flaked donut bread. This combination of sweet and savory flavors resulted in a unique and satisfying meal.
As for desserts, Caf Shilla Bakery offers a number of cakes such as the delectable chocolate mousse cake. At Shilla, single slices are up to $5 and whole round cakes are $25. These cakes are decorated with broken chips of chocolate or slices of fresh fruit on top. Some are even decorated with colorful artificial flowers.
Shilla also offers bubble tea, bingsoo and yogurt ice cream each costing at least $4. Bubble Tea is a cold tea which comes in various fruit flavors with tapioca balls. Bingsoo is like ice cream, but with radical toppings and combinations. It can come with fruit loops, fresh banana, kiwi, strawberries, strawberries, mango, black raspberry and coconut jelly; bingsoo can also be topped with cereals, red bean, mocci, flavored syrups and shaved ice.
For those who have the desire to try new things, or to even combine dessert with dinner, Caf Shilla Bakery is the place to go.
Shilla Bakery
2089 Veirs Mill Road
Rockville, Md 20851
301-217-0003