RHS Community Reflects on Valentines Day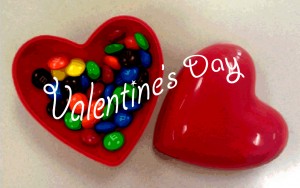 Many people associate Feb. 14 with hearts, chocolates, teddy bears, or even just time spent with a loved one. However, through the tough economic times Americans have faced over the past few years, showing their love with expensive gifts has become harder than ever.
In order to express affection on Valentine's Day, without spending too much money, many families have invested in less expensive, yet sentimental gifts. Instead of buying jewelry, some write letters. Others purchase candies such as lollypops or heart shaped candies in the place of expensive boxes of chocolate.
RHS History teacher Heidi Hemming has a fun and inexpensive Valentine's Day tradition for her and her family each year. "My kids and I make our very own homemade valentines every year and give them to our friends," said Hemming.
Other Valentine's Day participants believe that the simple company of a loved one is enough of a gift. RHS freshman Justin Flavell said he does not plan to buy a gift for his girlfriend this Valentine's Day. "Spending the day with her is enough of a present," said Flavell.
Although some have decided to hold onto their dollars this winter season, many others have chosen to spend their money with a little more freedom. According the the National Retail Federation, an estimated $17.6 billion will be spent by American consumers this Valentine's Day, almost $2 billion more than in 2011. The NRF calls this statistic, "encouraging that consumers are still exhibiting the desire to spend on discretionary gift items."
RHS Composition Assistant Helen Clark does not share the same enthusiasm as the NRF. "Love should be show through actions, not gifts. You can't buy love with gifts" said Clark. Clark recalled one small valentine she gave to her husband that made his day.
"I remembered that he really liked crossword puzzles so I made a custom crossword that included our important memories as a couple and it was really romantic" said Clark. "It's small gifts like this that really make Valentine's Day meaningful."