A Deeper Look into Indoor Track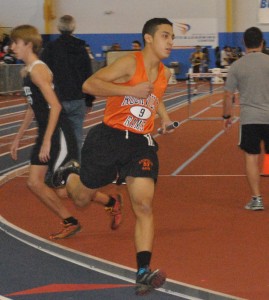 With all the hype and excitement that comes with winter sports such as having "the Inferno" at the basketball games, it can be easy to forget about Indoor Track. However, indoor track may be one of the school's most successful winter sports team.
The indoor track team is coached by science teacher Seth Kenton and math teacher Karl Kraus. Kenton is the head coach while Kraus focuses on training the long distance runners. Kraus also coaches the cross country team in the fall and has a lot of experience in training runners for long distance races.
This is Kenton's second year coaching indoor track. Kenton has been an assistant coach on the varsity football team since coming to RHS in 2009. "This year we've built [the program] up. There's more people competing and practicing. We're still very young but I'm trying to grow the program," said Kenton. The team lifts weights at practice on Mondays, Wednesdays and Fridays, while practices on Tuesdays and Thursdays are spent practicing field events or running.
Indoor track is a unique sport in that it offers a variety of different athletic competitions. Athletes can participate in races of 55, 300, 500, 800, 1600 or 3200 meters, relays, the 55 meter hurdles and jumping or throwing competitions. Throwing events include the shot put, while jumping competitions include the high jump, the long jump, the triple jump and the pole vault.
The indoor track team mostly goes to meets that involve more than one team so it is hard to assess their success in terms of a record. However, many of the athletes on the team have found individual success and accomplishments. Captain, senior Charles Acevedo said, "I run to stay in shape, but I also really enjoy the competition of indoor track." Acevedo has the eighth fastest 500 meter time in the 3A West division.
The indoor track team has performed well so far this year but hopes to improve as a team. The team has many new and young athletes but nevertheless looks forward to what it believes will be a successful season. "I love running. I try to do as many of the running sports as possible because they are so much fun," said junior Ryan Abijomaa. The team will participate in a countywide meet Jan. 23.