Holiday Season Should Consist of More than Just Presents
December 23, 2011|27 Views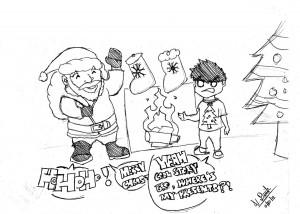 Ready for the holidays? Well, it is that time of the year again. And you know what that means: winter break, ugly Christmas sweaters, Christmas trees or menorahs, light shows and parties. Well, how about a visit to your local church or temple? Or spending time with your family? Is that on your holiday to-do list too?
A holiday is defined to be a day deemed to have cultural, national or religious significance to the people, and therefore, warranted observance. In fact, the word itself is derived from the concept of a "Holy Day." So, why is it that we now assimilate the word "holiday" with objects that do not reflect the true meaning of the season?
As a culture, we have drifted apart from the actual meaning of the holidays. We know regard the holidays more with the coming of Santa Claus, rather than celebrating the festivity of Kwanzaa, Hanukkah or Christmas. We know worry more about going "Christmas shopping," and less on actually celebrating the holidays.
Gifts are not a bad thing, as gifts can be a great thing so long as they are given with the proper sentiment. Exchange presents with your family or with your friends, but do it to spend time together, not money. Make the holidays less materialistic.
Learn about your culture this winter break by researching the traditions that compose your heritage. Participate in your church, build a crA?che or light up a menorah, depending on your culture, but make sure you spend time with the ones you love. That is the point of holidays. Do not worry about buying the biggest gift for your friend or relative, simply enjoy being with them.
Overlook the superficiality that has become of our holidays; distance yourself from the commercialism for a minute. Celebrate the religious elements of the holidays or the united bonds built from spending times with family and friends.
Promote altruism, focus on giving, not receiving, practice family traditions and create new ones' that is the real spirit of the holidays. The holiday season is not just a time for special sales on your favorite stores; it is a time to celebrate family, community and culture.