Autistic RHS Students Demonstrate Vigor and Spirit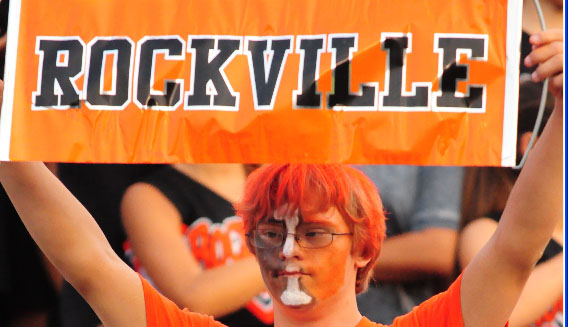 One of the most common observations made by the student body is the lack of overall school spirit shown by crowds of students mildly applauding sports teams and scoffing at team uniforms during pep rallies and games. However, one group of students at RHS seems to have enough pride for the whole population: those in the autism program.
It seems that football games and pep rallies tend to lack school spirit and create a sense of boredom. There is a disconnection between students and what is going on in front of them. "To be honest, there really was not that much energy," said sophomore Chloe Casilag, who recently attended her first football game. "The audience was watching the game, but they did not seem so intrigued."
In the meantime, as the interest dwindles, students notice their autistic schoolmates in the crowd wearing orange and black as a showcase of their RHS pride. These schoolmates, having prepared and built up their excitement beforehand, enter the crowds with unmatched energy.
The students also receive encouragement and motivation from the teachers within the autism program, who assist them in their preparations and enjoy watching as other students provide the same kind of support. "My students love to wear their Rockville shirts and get confidence from their peers," said autism teacher Michelle Edwards, who adds that students often walk up to their autistic classmates and compliment them on their outfits and decorations.
Attending a football game often involves listening to isolated cheers and encouragements aimed only at certain team members. Students spend more time talking and lounging than they do truly watching the game, and many others do not even bother attending any games at all besides their own, citing better things to do.
This is why such pride can be beneficial for sports players and team members whether they are on the field or in the middle of the stadium representing RHS. "Just the fact that [students] make an effort to support our school is important," said sophomore Cassidy Lankler. "It motivates and encourages [athletes]."
It is not a secret that school events can grow a little dull as students lose pride in their teams or general excitement for school accomplishments. But it is motivational to know that athletes and teams have the encouragement of at least part of their school. Students in the autism program provide this encouragement and motivation for their classmates.
For more pictures of school spirit throughout the Fall sports season, see this gallery.