Students, Staff Support Lily's Hope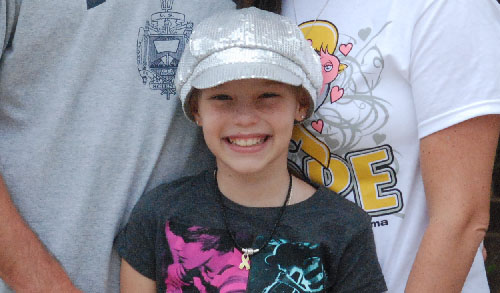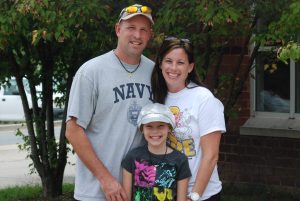 Last August, physical education instructor, Frank Weaver, and his family received devastating news: their ten year old daughter, Lily, was diagnosed with Ewing's Sarcoma, a rare form of bone cancer.
Lily complained of upper arm pain to her parents, but who would have known that the arm pain was something much more than an ice pack could heal. "When I heard Lily had Ewing's, I researched everything I could about it," said Weaver. Ewing's Sarcoma is a rare form of cancer that usually is most commonly seen in children going through puberty because that is when the bones begin growing rapidly.
According to http://everydayhealth.com, 250 kids and adolescents are diagnosed with Ewing's Sarcoma each year. Even though this only makes up three percent of all childhood cancers, it is the second most malignant cancer in children. Lily happened to be in the one in five million that gets diagnosed with such a severe case of Ewing's.
Lily began chemotherapy around the third week of August and has to go every third Tuesday to the Sinai Hospital of Baltimore. Chemotherapy makes Lily tired and knocks down her blood count. "Whenever Lily comes back from chemo, she loses taste for food and says it all tastes like metal," said Weaver.
Through all of the chemotherapy and radiation that Lily has gone through, she still manages to keep her fun-loving spirit and make everyone around her smile. "Everyone at the hospital loves Lily and all of the nurse's fight over who gets her when she comes in," said Weaver.
Lily has two younger siblings, a sister, Gracie, and a brother, Frankie. Weaver described how the children have all gotten along better since Lily has been diagnosed. "They are all kinder to each other, and they look out for one and another," said Weaver.
Cancer is not only a physical problem, but a financial problem. International Baccalaureate coordinator, Deborah Wilchek initiated "Lily's Hope," an organization to help pay for the Weaver's medical expenses. She came up with the idea to sell the wristbands for Lily and all money from purchases goes to the Weaver family to pay for medical expenses. The interpreters gave baskets of goodies for Weaver's family and the Deaf and Hard of Hearing group made custom M&M's for Lily's Hope.
"Lily's Hope will never die; my wife and I plan on making an organization after Lily gets better," said Weaver. Weaver described how everyone has offered a helping hand; even some of the students he used to teach have returned to see how they can help.
The Message of Hope organization and Patty Pollatos Fund have helped the Weaver family immensely, from raising awareness to helping with bills. Also, the varsity pompon squad did a routine for Lily, and girls' varsity soccer is going to have a game for Lily and the admission tickets to see the game will go to the Lily's Hope fund. "It is amazing how many people come with ideas and just want to help," said Weaver.
Lily's Hope has touched everyone in the RHS community. There will be more fundraisers for Lily such as the Lily's Hope 5K race Nov. 13, a golf tournament in the spring and a basketball game.
For more information on fundraisers for Lily's Hope, see Weaver or visit the Lily's Hope Facebook Page.
This article was printed in the October issue of the Rampage.