Aldolpho Gamboa graduated from Rockville High School in 2021 and is the current co-owner of Churros Inc., a cart-style dessert shop with locations in Onley and Clarksburg.
"It started with my family originally. It was me, my dad, my mom, and my aunt," Gamboa said, "We're all familiar with [churros] and we enjoy it."
The Gamboa family previously owned a bakery, where the family would make a variety of desserts including churros. During 2020, Gamboa was at home most of the time as school was in a virtual setting, so he had time to help out.
"[I learned how] to get the company going, and I learned how to control the business," Gamboa said.
Churros Inc. was founded in 2018 to spread Latin American culture through churros. Gamboa took over the company in 2019, becoming a co-owner alongside his Aunt. Gamboa controls most of the directing and managing of the company, including the planning of event catering.
"Usually companies will reach out to us. We have a lot of baby showers. We also cater to the Baltimore Ravens," Gamboa said.
Gamboa has plans to expand; his short-term goal is to have 6 food trucks open by the end of this year. Gamboa's long-term goal is to be as successful as other baked goods companies like Krispy Kreme.
"At the moment we have a commercial kitchen which we're remodeling to sort of have an open front so people can come pick up their orders," Gamboa said.
Churros Inc. has amassed a returning customer base that rates them highly.
"They're nice and crispy and the chocolate sauce was really good," Mark, a customer at Churros Inc. said. "They seem like really nice people."  
Another reason why customers of Churros Inc. enjoy the churros is that they are made fresh right in front of you.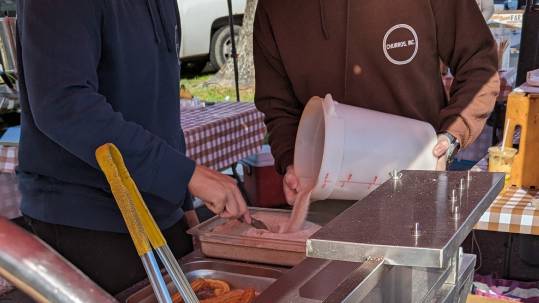 "When my daughter wanted to see how the churros were made, they made sure she could see them being made," Marcie, a customer at Churros Inc. said
Gamboa believes he has made a successful business, and he wants people to know that it's possible to navigate high school life and start a business.
"If you're passionate about it, dedicate some time and sacrifice a little bit," he said.