Howard Runs Back Into the Season
After a long year deprived of play, the varsity football team is back in action, having completed their 2021 regular season. Rams captain and running back, Erik Howard, leads the 6-3 team in touchdowns with 12. Howard has shown tough skill throughout the season, making himself a threat to the opposition on the gridiron.
Howard began playing football at the age of 5. His quick speed and awareness on the field has allowed him to develop into an outstanding player. As Howard's role as a leader on the field continues to grow, so too does his teammates' reliance on his toughness and skill.  
Watching Howard dominate on the football field has been entertaining for fans on the watching from the sidelines.
"Erik takes a lot of risks, which is really exciting for the fans. Watching the crowd go crazy when Erik gets the ball is always a highlight of the game because you know something good is going to happen," varsity cheer captain Bailey Banfield said. 
Howard has not only proven his physical strength, he excels mentally as well.  
One of Howard's many talents is his "short memory," according to assistant coach Mark Stein. 
"Having a short memory allows Erik to maintain his attitude whether things are going well or going bad," Stein said. 
The team has grown closer as the season has progressed, Howard said. They spend their days together watching game film at lunch, eating pre-game meals or discussing college visits. The family bond that has been created is unmistakably obvious on game day. 
Because everyone is so team-oriented, the connection of what's happening on the field is noticeable. 
 "You can even see it on the sidelines with the reserves. Everyone feels they are part of the team," said junior linebacker Logan Uscanga.
Uscanga also praised Howard as a great contributor, leader and a model teammate.
Being a captain, Howard has to know how to guide his team and read the field. He epitomizes leading by example.
"The football IQ of Erik Howard is one of the best I've seen in my time as a player and a coach," Stein said. "He recognizes formations, plays, and tendencies by players on both teams."
The Rams hope to win a championship by winning the division and then states. 
"Erik is a leader and has the ability to impact the field and the locker room. With this type of leadership I expect him to carry the mental weight of the expectations and deliver the results with his teammates," Stein said. 
Leave a Comment
About the Contributor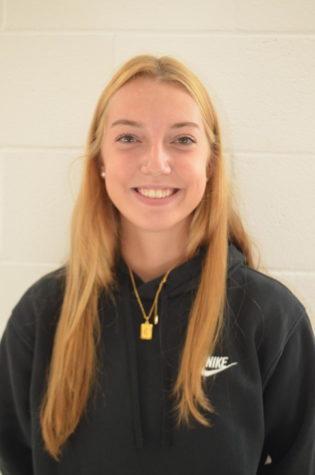 Elizabeth DiFonzo, Editor-in-Chief
This is senior Elizabeth DiFonzo's first year as an Editor-in-Chief for the Rampage after being a Sports Editor for two years. This is her fourth year...