The Art of Electives Online
The switch to online learning due to the COVID-19 pandemic has affected education systems on a global scale, especially in the United States. Naturally, some classes are harder to teach online since they may require a student's physical presence.
As a result physical education (PE) and art teachers are at a larger disadvantage than those who teach classes where physicality is not necessary. Art and PE classes both usually require access to materials to ensure participation, ranging from weights, to soccer nets, to oil paints and canvases. Without these resources, the classes are barely art or PE classes at all.
In-person learning for art and PE classes is more beneficial for the topics that are taught in them. This is because the materials and resources are provided by the school. During online learning, some students are disadvantaged because they are unable to procure these things themselves. This inability may be a result of one's income, family situation, transportation access, etc. 
"I have to keep in mind that not all of my students have art supplies at their disposal. I am not able to cover the breadth of the art curriculum such as building with clay or printmaking, or even painting. Not all families have these at home," Flower Valley Elementary School Art teacher Ho Choi said.
Not to mention, some activities require the supervision of a professional or adult, in this case, the teacher. A lot of the time, the most challenging parts of these classes are the physical aspects needed in order to succeed in them. 
"I can't walk around freely and give quiet feedback to students as I did in the art room. Everyone hears my feedback to individual students on zoom as I jump from student screen to student screen. Everything takes more time," said Choi. 
PE teachers are faced with the challenge of teaching students through a Zoom meeting, completely changing the basis on which the class is supposed to be taught. These teachers are at a loss as they have to construct a unit around participation in a certain sport through a computer screen, find ways to engage the attention of students, and are unable to generate exercise while teaching.  
"[We have] a very limited scope online rather than being in the gym or live and in-person teaching," Earle B. Wood Middle School PE teacher Drew Offutt said. "[Students are] learning tasks associated with the unit of study, they can do this by video, audio or through a written assignment."
Teachers experience increased difficulty when lesson planning for online classes compared to when they would for in-person learning. They now have to find new resources to fit these lessons and assign them to students, use technology they may be unfamiliar with, and find new ways to grade student's work. The physical education teachers and art teachers are focusing parts of their courses that they have previously graded student's on so that they do not have to rely too heavily on creating new online work for students that they otherwise would not have done. As said by Choi, teachers are held to a "grace before grades" standard- which increases leniency, understanding, and consideration before handing out a bad grade- especially with the younger students.
"Students are graded the same way as if we are in school, participation, effort. working well with others," Flower Valley Elementary School PE teacher Scott Taubman said.
When it comes to art, it is similar in the aspect of highlighting specific objectives students were already expected to meet in class, prior to Covid-19.
"There are 4 major components to any art class: creating, presenting, responding, and connecting," Earle B. Wood Digital Art teacher Jacob Hicks notes. "Students are graded on their ability to brainstorm and interpret their ideas, manipulate tools and materials to create a work of art, and reflect on or share their work with others."
Some are choosing to move to fully online, while others are still trying their best to do as many hands-on activities as possible.
"I worked all summer with my department planning units based using the National Core Fine Arts Standards and the Montgomery County Public School middle school art curriculum," Earle B. Wood art teacher Jennifer Espinoza said. "I spend a lot of time finding artists which will inspire students' artwork and videos which highlight the artists of study. I needed to find a way to have students plan/brainstorm ideas, do the artwork to the midpoint for feedback, and complete the work and written artist statement within 3-4 weeks."
Leave a Comment
About the Contributor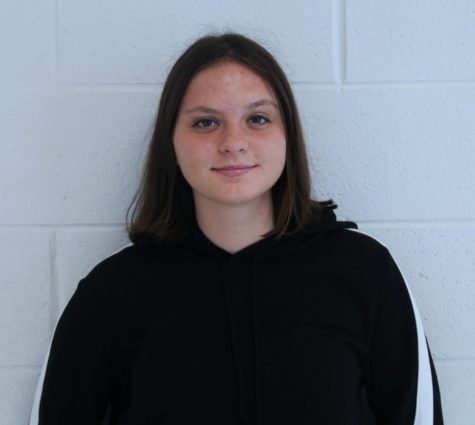 Casey Majewski, Staff Writer
Casey Majewski is a junior at RHS. After taking Intro to Journalism last year, she is now a Staff Writer for the Rampage. She enjoys writing and reading,...