In Memoriam: Lily Constance Weaver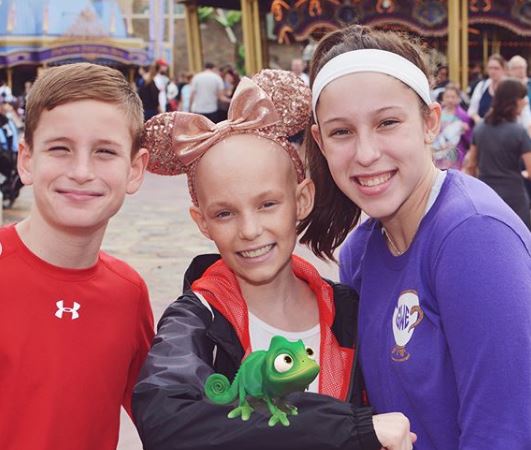 "She was bigger than life," physical education teacher Frank Weaver said about his late daughter, Lily Constance Weaver. "She loved just being nice to people and having a good time and living life to the fullest. Lily never let her sickness bring her down, she was always happy and smiling."
A warm heart and personality, community hero Lily Weaver passed away Dec. 20 after eight years of battling Ewing Sarcoma cancer. Over 800 people attended her Dec. 30 memorial service wearing gold — the color representing childhood cancer awareness — at St. Peter the Apostle Roman Catholic Church in Libertytown, Md. Eulogies delivered by friends and family highlighted her loving, kind and compassionate personality in celebration of her life. 
At the age of 10, Lily Weaver was first diagnosed with Ewing Sarcoma. This type of cancer, which affects the bones and soft tissue of the body, can often be cured, but also has a high chance of recurrence, as in Lily Weaver's case. A two time survivor, Lily Weaver fought the disease and was in remission for five years until she was re-diagnosed in 2017 and again for the third time in 2019. 
She is survived by her loving parents, Amy and Frank Weaver, and siblings Grace and Frank III. She loved her siblings and parents and they were her strength throughout her life and as she fought through cancer, Frank Weaver said. 
"She was so fun-loving but she was a spitfire too; she had a good little attitude towards her. But ultimately, she was always so happy and she didn't let all the negative news get to her like she was so positive in how she lived her life which is awesome," athletic director Mike Hayes said. "She made everyone around her happy and I think that's what everyone will remember. I just think she was a warrior, a survivor, a battler."
The supportive RHS community has been nothing short of phenomenal for the past eight years, playing a huge part in fundraising and supporting the Weaver family, Frank Weaver said. The annual Lily's Hope basketball game began after Lily's initial diagnosis and has since become one of the school's most popular fundraisers. The tradition has also spread to other school events and sports teams including girls volleyball and field hockey. Frank Weaver recalled the inaugural game when he and Lily were at the hospital and a video was sent to them: the bleachers were packed with a sea of yellow showing support for Lily. This year, the game was held Feb. 11 against the Blake Bengals.
"The Lily's Hope games are really meaningful to me because it's a way to spread awareness and raise money," senior Aimee Sunier said. "Lily definitely had a positive influence on her community because whenever I saw her, she always had a smile on her face."
Lily Weaver made it her mission to become an advocate for childhood cancer all over the world as she was a National Childhood Cancer spokesperson for Truth 365 and Arms Wide Open. She raised thousands of dollars lobbying for different fundraisers and research facilities. She has even spoken at the New York Stock Exchange and been featured in an HBO documentary.
With her incredible work in childhood cancer advocacy, Lily Weaver has caught the eye of several famous stars including world-renowned American Boxer Jarrell Miller, who was also featured in the HBO documentary. But by far, her most favorite celebrity was pop singer Ariana Grande who cultivated a close bond with Weaver in recent years. 
She was very active on social media, gaining 81,000 followers on Instagram and nearly 8,000 subscribers on YouTube documenting her makeup tutorials and travel vlogs.
In one of her Youtube videos, Lily Weaver explains how following one of Grande's soundchecks, Lily Weaver met her idol at a meet-and-greet. In the video, she recounted the event and remembers Grande saying how strong she was and that she had heard of her moving story with cancer. 
While she unfortunately had a short time on this earth, she did more with her time here than anyone could have imagined, Frank Weaver said. Even in her darkest days, she was always kind to everyone around her.
"All she ever wanted to do was lighten up a room when she entered and be kind to the people around her no matter the conditions she was in," Frank Weaver said. "Sometimes God's plan for someone on this Earth doesn't last as long as we'd like it to, but Lily sure did all she could during her time here with us."
From New Market, Md. in Frederick County, Weaver graduated with the class of 2019 at Linganore High School, and had plans to attend Frederick Community College. Even though she did not attend RHS, it was still a big part of her and her family's life. The family legacy dates back to 1968 when her grandfather worked as the science resource teacher when the school opened. Sadly, he passed away just two months before Lily did.
Throughout her life, Lily Weaver's infectious smile and positive attitude touched the lives of so many people and was an inspiration to people around the world. 
"Just be kind to everybody, you never know what someone is going through and you never know when your last day is," Frank Weaver said. "So live it and be kind."