Nationals Bring Home 3rd D.C. Championship Victory in 2019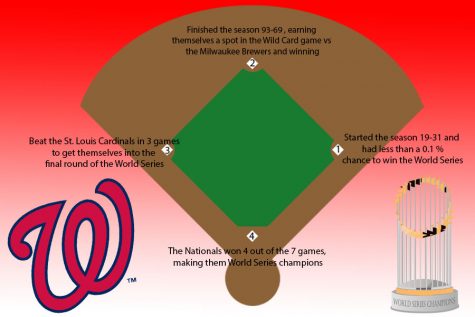 Despite a subpar start to the 2019 MLB season, the Washington Nationals defeated the Houston Astros in game seven of the World Series Oct. 30, bringing a third major sports championship to D.C. in two years.
In May, the Nationals were unlikely contenders to win the World Series. They started the season 19-31 and had less than a 0.1 percent chance to win the World Series, according to MLB Stats.
"The Nationals had a lot of problems early in the year. It was looking kind of bleak honestly," junior Lucas Ribaudo said. "But they made some good mid-season pick ups and somehow [manager] Dave Martinez was able to pull this squad together and pull off something great."
Although they struggled early in the season, the Nationals were able to turn things around, finishing 93-69 and earning themselves a spot in the Wild Card, the single game opening round of the MLB playoffs, which they then rode all the way to become World Series champions. They were led by star rookie outfielder Juan Soto, pitcher and World Series MVP Stephen Strasburg, and pitcher Max Scherzer who started game seven despite being unable to move his arm because of neck spasms and nerve irritation just days before. 
The journey to victory was a stressful one for Nationals fans, especially during the World Series. The Nationals opened the series with two wins in Houston and a commanding 12-3 win in game two. It seemed they would be able to win easily, but they lost the next three games. Then trailing 3-2, they managed to close things out in games six and seven. 
"I was hopeful [for game seven], but very nervous," History teacher Beth Seabreeze said. "Everything they had done up to that point and the entire World Series was coming down to that one game."
The Nationals' World Series victory marks the third championship won by a D.C. team in the past two years. Before 2018, a D.C. team had not won a championship since 1992 when the Washington Redskins won the superbowl. The Washington Capitals won the Stanley Cup in June 2018 to end the 26 year drought and the Washington Mystics and Nationals each followed suit this year. 
"D.C. teams were so bad for so long and even the good ones could never make anything happen in the playoffs," English teacher Jesse Rutter said. "It's really nice to see this new era for D.C., the fans deserve it after enduring all that."