Bermuda Grass Field Needs To Be Maintained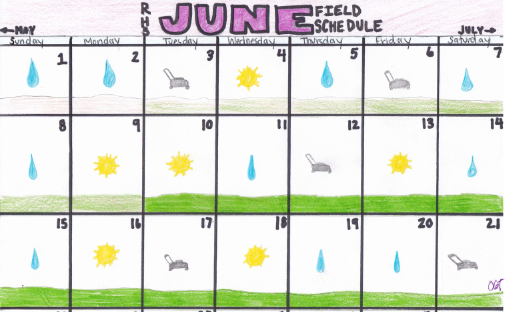 While most athletes consider playing at home an advantage, the poor playing conditions of Joseph B. Good Stadium make RHS-hosted games dreadful for fall and spring athletes. Despite the installation of Bermudagrass last summer, the field remains patchy and uneven, prompting backlash from players and spectators alike.
Even though schools like James Hubert Blake High School (HS), Watkins Mill HS and Winston Churchill HS have well-maintained, well-liked Bermudagrass fields, RHS' has not lived up to its expectations due to poor maintenance and drainage problems. RHS should implement a public maintenance plan to rehabilitate the new field, demonstrating more dedication to last year's pricey investment in Bermudagrass to appease community discontent and improve the athletic experience for its student athletes.
Earlier this year, due to unforeseen drainage problems with the new field, several fall sports games were delayed at the beginning of the season, setting the season off to a slow start for fall athletes and contributing to teams losing momentum for the rest of the season. And when games were held through rain, the field was damaged even further as the grass turned to mud and there wasn't a proper recovery period before the next set of games.
Despite Bermudagrass' reputation to be fast growing, there are multiple spots on the field, especially near midfield and the goal lines, where heavy traffic has left large, multiple feet-wide patches of dirt beyond natural repair. When it rains, the patches become almost unplayable as they are difficult to run through, let alone scoop a lacrosse ball out of or drive a field hockey ball on.
In a Rampage-conducted poll of 60 football, soccer, field hockey and lacrosse players, 46.7 percent of respondents said they did not enjoy playing on the new field at all, and 48.3 percent said they only somewhat enjoyed playing on it. Additionally, 95 percent of respondents said they believed field quality had a significant effect on teams' performances.
Regardless of the current field quality, there is still plenty of future potential, but the right measures must be taken. If a formal plan is created that outlines what needs to be done to care for the field, when it will be done and who will do it, the field will constantly be under close inspection, allowing any further drainage problems or uprooted grass to be dealt with early on.
If RHS were to create a structured, public plan to approach field maintenance, the athletic department would be accountable to the community as people would be aware of what measures are supposed to be taken to ensure adequate field quality. Under the current, informal procedure, athletes and coaches lack awareness of how the field is supposed to be cared for, resulting in an ineffective maintenance routine.
RHS athletes have dealt with poor field conditions their whole careers; it's time they get the home-playing experience they deserve.