March Madness Predictions
BRAMI'S BRACKET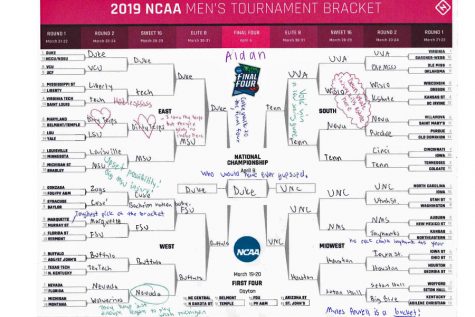 First 64
No. 5 MARQUETTE VS. No. 12 MURRAY STATE
The upset I want to pick, but can't. Murray State is one of the most exciting teams to watch in all of college basketball because of their point guard, Ja Morant. Averaging 24.6 points per game to go along with 10 assists, he will become the first player in NCAA history to average 20+ points along with 10 assists. I'm really upset they're matched up against Marquette, because their point guard is arguably just as good as Morant. Markus Howard averages over 25 points per game and controls the entire Marquette offense. Since the two teams point guards basically cancel each other out, I'll have to take the overall more talented Marquette team.
No. 7 WOFFORD VS. No. 10 SETON HALL
Curse the committee again! I believe in both these teams to pull off some upsets and make a deep run but they unfortunately play each other in the first round. Seton Hall is carried by one of my personal favorite players in the country, point guard Myles Powell. Powell averages almost 23 points per game and is the true heart and soul of this gritty, battle tested Seton Hall team. With wins over Marquette, Maryland, Kentucky and Villanova, Seton Hall has one of the most impressive resumes a double digit seed can have. While Seton Hall has proven they can beat anyone, Wofford just doesn't lose. Winners of 20 straight games, yes, 20, the Wofford Terriers won't lie down for anybody. Fletcher Magee is about to break the NCAA record for career 3 pointers made, and makes a whopping 4.6 per game. I just have to stick with Seton Hall, they're much more tested than Wofford.
No. 8 VCU VS. No 9 UCF
How many taco's tall is Tacko Fall? Who cares. After this game, we'll never have to listen to the dumbest ESPN comment ever again. Tacko Fall is a 7'6 center for UCF who scares away opponents with his shear size and according to a very annoying ESPN graphic that is replayed every UCF game, he is 300 three inch tacos tall. While he's fun to watch, UCF just isn't very good. With only two ranked wins all season, UCF just doesn't beat good teams. VCU has a history of making deep tournament runs, and is much better equipped to walk out with a win in the first round.
Top 32
No. 12 NEW MEXICO STATE VS. No. 4 KANSAS
Rock chalk jayhawk? Not this year. Kansas has, lost their arguably two most important players to injuries, forward Lagerald Vick and center Udoka Azubuike. New Mexico State likes to get out and run and plays tough defense, only allowing 64 points per game. Perennial powerhouse Kansas won't go down without a fight, but their chances of making any deep postseason run with their injury-ridden lineup is slim to none.
No. 2 MICHIGAN VS. No. 7 NEVADA
I love Michigan. They're battle tested in the uber-competitive Big 10 conference, have the length to guard big teams, and their point guard Zavier Simpson can make some of the most amazing running skyhooks you've ever seen. It would take a perfect matchup to beat Michigan, and that's exactly what Nevada is. With an extremely long starting five led by Jordan Caroline and the Martin twins, Nevada cleans up on the boards and uses their length to get steals and run in the open court. Michigan has the talent to take care of Nevada, but my gut tells me Nevada will have just the right amount wingspan to best the Wolverines.
No. 2 KENTUCKY VS. No. 10 SETON HALL
Off with my head! How dare I pick Kentucky to lose to a 10 seed?! Well because Seton Hall already beat Kentucky this season. Dec. 8, 2018 Seton Hall beat Kentucky 84-83 in overtime. Kentucky is definitely the more talented team, but it's fun to pick upsets and they happen every year. If there's any low seed to roll with this tournament, Seton Hall is the team to pick.
Sweet 16
No. 2 MICHIGAN STATE VS. No. 6 MARYLAND
As much as I want to be a homer and pick the UMD Terps, as a responsible bracketologist I have to take the Spartans. MSU trounced the Terrapins by 14 points in an ugly Big Ten matchup earlier this season. However keep an eye on the injury to forward Kyle Ahrens, as it may mean trouble for MSU. The Terps will give the Spartans a battle. The Terp's "twin towers" Bruno Fernando and Jalen Smith give any team in the country nightmares and point guard Anthony Cowan can run with the best of them, but Michigan State is just too well coached to lose this game.
No. 4 FLORIDA STATE VS. No. 8 SYRACUSE
Florida State is not to be messed with. With most of the team returning from last year's Elite Eight run, this team has lots of valuable tournament experience. Syracuse's 2-3 zone has a chance to disrupt FSU on offense but if they can get out and run, Syracuse won't be able to keep up with the Seminoles. Guard Tyus Battle will present a problem for the FSU defense but it's nothing they can't handle.
Elite Eight
No. 1 VIRGINIA VS. No. 2 TENNESSEE
This game will be absent of fast breaks and full of aggressive defense from both teams. Two of the grittiest, slowest paced, and defense-first teams in the country will face off in this Elite Eight matchup, and Tennessee is just a little more grown up than Virginia. Forwards Grant Williams and Admiral Schofield are men among boys offensively and especially defensively. Guard Kyle Guy will try to shoot the Cavaliers to a victory but it won't be enough against the Volunteers.
Final Four
No. 1 DUKE VS. No. 6 BUFFALO
Buffalo's wild ride will unfortunately come to the end when they matchup with the Duke Blue Devils. It will be a sad day when Buffalo's guard CJ Massenburg just won't be enough to beat Duke's fabulous freshmen, Zion Williamson. It was a great run but it would be silly to think this non-power five team will have a chance against Duke.
National Championship
No. 1 DUKE VS. No. 1 UNC
Boo hoo. Everyone knows Duke is going to hoist the trophy this year. It might be the most obvious pick of the decade. With the top three recruits in the country, no team has any chance at matching up with Duke across the board. UNC beat Duke twice this year, but it was without Duke's best player, forward Zion Williamson, who was out with a knee injury. Fresh off an ACC tournament championship, the Dukies will cap off this historic year with one more piece of hardware.
DIFONZO'S BRACKET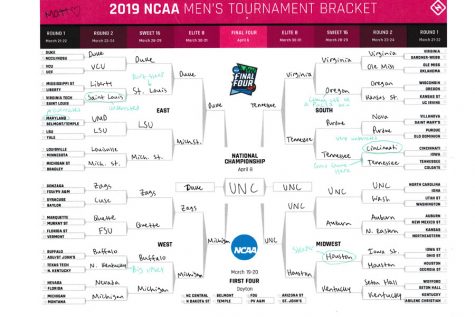 First 64
No. 4 VIRGINIA TECH VS. No. 13 SAINT LOUIS
With the ACC's best three-point shooting team, the Virginia Tech Hokies are a difficult team to beat. They were defeated in the ACC tournament by the Florida State Seminoles in an overtime thriller, and are hungrier than ever to get their next win. Point guard Justin Robinson is returning for the Hokies after a foot injury and is going to play a huge part in the team's offense. However, the Saint Louis Billikens are underrated. They are scrappy and explosive players and can attack the rim no matter who is defending them. The Hokies struggle with crashing the boards for rebounds and loose balls which is a huge part to the game. This is the Billikens' specialty. If the Billikens play strong perimeter defense and don't allow for the Hokies to make three pointers, the upset is theirs for the taking. Saint Louis upsets Virginia Tech.
No. 5 WISCONSIN VS. No. 12 OREGON
Oregon is arguably the hottest team in the entire tournament right now. They lost their star center Bol Bol due to a season ending knee injury in the middle of the year. However, the Ducks bounced back and proved they have what it takes to win without their star player. The Ducks won their final four games of the regular season as well as the four games of  the PAC-12 Conference Tournament to win the PAC 12. Not only did they win, but they won by 20 points over the top seeded Huskies. Center Ethan Happ and the Wisconsin Badgers are a highly talented team. However, in this tournament, it is proven every year that it is difficult for a star player to carry the entire team on their shoulders. If Happ does not get it going for his team, it will be an easy win for the Ducks of Oregon. This is a no brainer for me; Oregon is hot, Wisconsin is not. Oregon upset over Wisconsin.
No. 6 BUFFALO VS. No. 11 ASU/ST.JOHN'S
Buffalo is my sleeper team. They are underrated and won the Mid-American Conference (MAC) title for the fourth straight year and have an overall record of 31-3. They are a highly talented team and are well coached. They have proven they can make free throws and big shots when it really counts. Buffalo stampedes to the next round.  
Round of 32
No. 7 CINCINNATI VS. No. 2 TENNESSEE
Tennessee was arguably skimped from receiving a No. 1 seed in the tournament. This matchup is going to be a great game so make sure you tune in to watch every minute of this one. Could the Vols go down early, or do they survive the Bearcats to move on to their chance at the title? The Bearcats of Cincinnati are coming off a strong season finisher. The Bearcats won the American Athletic Conference (AAC) championship over Houston, which is also a respectable team. The Bearcats were seeded much lower than they should have been. However, believe that the experience of the Vols is going to have a huge impact on this game. Star small forward Admiral Schofield is arguably one of the most versatile players in all of the NCAA. He can post up, run the floor and shoot the three. This is going to be one of the best games of the tournament but the Vols will come out on top.
No. 4 KANSAS STATE VS. No. 12 OREGON
The Oregon Ducks are back and still hungry. My cinderella team faces a tough opponent in this match up. Kansas State is a highly skilled team however, is not as good as their seed in the tournament. They have defeated some tough opponents during the regular season so I can not count them out. For the Ducks to pull off this upset, it is going to have to be a hard fought game. During the regular season, Kansas State ultimately earned at least one win against every opponent in the Big 12 to finish 14-4. However, despite these good looking stats for the Wildcats, the Ducks are too hot right now to be defeated. They have their eyes on the prize and are coming out with another upset.
No. 1 GONZAGA VS. NO. 8 SYRACUSE
Every year, the Syracuse Orange prove to the nation that they are seeded too low in the tournament. They are known for breaking brackets and prove to people the reason this tournament is called "March Madness." Led by Tyus Battle who is banged up and recovering from a back injury, there is a chance that the Orange will be a little shaken up and taken by surprise from this very talented Gonzaga team. Gonzaga has beaten top dog Duke, so if Gonzaga comes out on top in this game, it will not be much of a surprise. Syracuse is indeed capable of defeating the Bulldogs; however, it is not likely. Gonzaga advances to the sweet sixteen.
Sweet Sixteen
No. 1 DUKE VS. No. 13 SAINT LOUIS
The country's favorite basketball team, the Duke Blue Devils! The top ranked team in the country as well as the tournament, the Blue Devils have been making headlines before the 2018-19 regular season even began. Some of the top recruits in the nation decided to attend Duke and play basketball. So far, their talents have earned them much success, and some top highlight plays. However, arguably their best player, Zion Williamson, is already being compared to some of the NBA greats. He was out briefly due to a knee injury, but is back and better than ever for the big dance. Duke won the ACC conference, defeating Florida State in the finals. They face a good team, the Saint Louis Billikens in the sweet sixteen. However, this No. 13 seed is nothing the Blue Devils have had trouble with beating in the past. This should be an easy win for Duke.
Elite Eight
No. 1 NORTH CAROLINA VS. No. 3 HOUSTON
Houston is a huge sleeper and one of my favorite teams each year. Last tournament, they made a name for themselves and almost made it to the final four. They are a well coached team and have a lot of talent both on the floor and on the bench. This team is determined and dedicated to the game. If UNC begins to get a lead, guaranteed Houston is going to come back and make it interesting. UNC is a powerhouse team, guard Coby White and small forward Nassir Little are trouble on both the offensive and defensive ends of the court. When they start to catch fire, it is most likely game over for the opposing team. This will be a great match up and likely a back and forth battle; however, UNC is coming out on top.
No. 1 GONZAGA VS. No. 2 MICHIGAN
The Zags size and experience led them to the elite eight. But they are not stopping here. They face a tough matchup against Michigan. Michigan is known for their bracket busting and they are capable of defeating this Zags team of giants. The biggest concerns for the Wolverines on defense are keeping Gonzaga's center Rui Hachimura off the boards, preventing second chance points and preventing offensive rebounds. The Wolverines will get it going from deep and keep themselves in the game with their three pointers. This could be the biggest game of the tournament and will result with many fans of either team upset with the outcome.
Final Four
No. 2 TENNESSEE VS. No. 1 NORTH CAROLINA
The last time these two teams met in 2017, it resulted in a win for the Tar Heels. These teams have different playing styles. North Carolina is known for their guards and their explosiveness. North Carolina will be able to beat the Vols down the court to get a few free points with their speedy threats. However, the Vols' ability to hit three pointers, as well as get the ball inside to the post is a major threat to the North Carolina defense. The Final Four is always an anticipated, but if these two teams end up here, North Carolina will advance to the championship.
National Championship
No. 1 DUKE VS. No. 1 NORTH CAROLINA
Here it is. The big match up. Huge Rivalry. Two No. 1 seeds bleeding different shades of blue battle it out for the title. Two hall of fame coaches. Only one team can win. The Blue Devils are a different team with Zion Williamson back and in good health. There is no doubt that this superstar team will be difficult to beat. However, they both have shown each other that they are capable of beating one another. This is going to be a game for the books. But North Carolina has played against Zion before and knows how to shut him down. If they can do this, they will earn the title in one of the most anticipated rematches perhaps in the history of the NCAA tournament. Tar Heel nation will be celebrating in Chapel Hill.