Top 5 Sports Moments to Look Forward to in 2019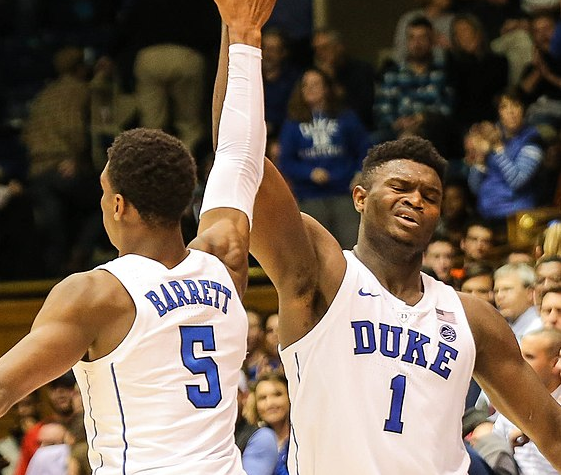 After an exciting year for sports in 2018 with many upsets and surprises, 2019 is now underway and many new historic sports moments can be anticipated. The following five moments can change the landscape of sports as a whole and the way each sport is viewed. (These are listed in no particular order.)
1. Zion Williamson's Path to NBA
Zion Williamson is a rising star in the college basketball world and his contributions this year have already been noticed by many sports columnists. As of March 12, Williamson is averaging 21.6 points per game and 8.8 rebounds per game for the Duke Blue Devils. But what is most impressive is that Williamson has a PER of 42.4 which is the best PER in the history of the NCAA. (A PER is an advanced analytic as described by creator John Collinger as "summing up all a player's positive accomplishments, subtracts the negative accomplishments, and returns a per-minute rating of a player's performance.") Williamson also has a .705 effective field goal percentage which leads the NCAA. He is a transcendent talent and is highly regarded as the best prospect since LeBron James. NBA Hall of Famer Scottie Pippen said he was the best NBA prospect since Michael Jordan.
"Zion [Williamson] is so big and so athletic, he can't be stopped in the paint," freshman Okeyo Ayungo said. "He's gonna be a beast in the league next year."
2. Kyler Murray's Fate in the NFL
Quarterback (QB) Kyler Murray made a huge decision by forgoing his MLB career to declare for the NFL draft Feb. 11. Murray was selected ninth in the 2018 MLB draft by the Oakland Athletics, but after winning the  Heisman Trophy and appearing in the college football playoffs, many sports fans were left wondering whether Murray was going to play baseball or football professionally. Murray made his decision clear Feb. 11, by giving back all of his signing bonus money to the Athletics and officially declaring for the NFL draft. Murray is projected to be a mid-to-late first round pick and is expected to make a big impact for the team that drafts him.
3. Saquon Barkley's Sophomore Stardom
New York Giants running back (RB) Saquon Barkley generated headlines with 1,307 rushing yards and 721 receiving yards winning the Offensive Rookie of the Year award earlier this year, but many fans are wondering if he can top what he did in his rookie season. Many RB's have suffered a sophomore slump and while some have recovered like Todd Gurley and Franco Harris, others have not like Doug Martin and Trent Richardson. It will be interesting to see if Barkley can take the Giants offense to the next level or if he deteriorates in the Giants offense in the years to come. And with Odell Beckham Jr. being traded to the Cleveland Browns, Barkley is expected to have a larger offensive role.
"I'm kind of happy that Odell [Beckham Jr.] got traded because he's a negative influence, and I don't want him ruining Saquon [Barkley's] development," psychology teacher Christine Zafonte said.
4. Trevor Lawrence Building Off Dominant Freshman Season
Clemson Tigers quarterback (QB) Trevor Lawrence shocked the college football world last year by not only beating Alabama in the National Championship but dominating the usual powerhouse 34-3. The true freshman QB played in 15 games for the undefeated Tigers and threw for 30 touchdowns while only throwing four interceptions. He also had an exceptional, notable passer rating of 157.6. Lawrence has a ton of potential and is an early Heisman Trophy favorite. He is expected to make a big impact for the Clemson Tigers during the 2019-20 season.
5. Golden State's Empire May Be Falling?
The Golden State Warriors' dynasty has been haunting the NBA for the past four years and has the potential to end this year thanks to this recent NBA trade deadline. Two eastern conference teams have gotten notably stronger during the trade deadline and could challenge the Warriors for this year's NBA championship. The first team with potential is the Toronto Raptors, adding three-time all star and former defensive player of the year Marc Gasol. This improves the Raptors' team tremendously because Gasol makes the Raptors an even scarier team on defense and can get a bucket inside or pop out and score a three.
"The Raptors are looking [good] after the [trade] deadline, they are a good favorite to win the NBA title," junior Madhav Pillai said.
The second team that got notably stronger was the Milwaukee Bucks who added power forward Nikola Mirotic to space the floor. This is a great addition for the Bucks as they needed more shooters around star forward Giannis Antetokounmpo to be an even bigger offensive threat. Despite entering the Eastern playoffs ranked fifth last season, they are currently the no. 1 team in the NBA.