3 Seniors Commit to Colleges, Furthering Their Athletic Careers
Seniors Charlotte Davis, Matt McTighe and Nate Watts will be continuing their athletic careers in college, after Davis and McTighe officially committed to their colleges Nov. 14 often called "National Signing Day" which is traditionally the first day in which a high school senior can sign a binding National Letter of Intent for a collegiate sport. Watts plans to sign his letter in April.
Davis signed to Frostburg State University to play National Collegiate Athletic Association (NCAA) Division II soccer, McTighe signed to Mount St. Mary's University to play NCAA Division l baseball and Nate Watts plans to sign with the U.S. Naval Academy to swim Division I.
These students excel both on the field and in the classroom, but the commitment required for competitive student athletes can often be challenging.
"As a student athlete I have to sacrifice a lot. I don't always have time to hang out with friends on the weekends because I have tournaments or games," Davis said. "Although I am doing something I love, it can be hard when you feel like you're missing out on something. Then again, I have amazing people around me who have always been so supportive of my commitment to soccer and I would not be where I am today without them."
Beginning as a child, Davis immediately fell in love with the sport and has been playing soccer for 14 years, she said. Davis was a member of the varsity soccer team all four years of high school and served as a captain for her final three.
"I'm most excited for the competitive environment that college sports bring. My overall goal is to always improve as a player and I believe that playing in an environment where the rest of my team has that same goal is only going to help me improve," Davis said.
McTighe committed to Mount St. Mary's University in Emmitsburg, Maryland to continue his baseball career.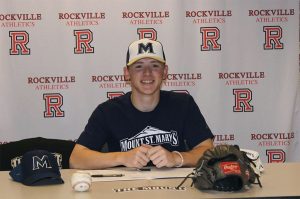 McTighe is the youngest of six siblings and the first to commit to play baseball at the NCAA Division I level. McTighe has been playing baseball his entire life and has grown attached to the game, he said. Throughout his high school career, McTighe is a two-time Team MVP, two-time team offensive MVP, two-time all-division player, 2017 division player of the year, two-time All-District player, 2018 All-County player and was selected to play in the Maryland State Association of Baseball Coaches (MSABC) Maryland Cup Game.
Watts has been swimming year round for six years and has recently been accepted to the U.S. Naval Academy. He plans on signing his Letter of Intent during the next signing day in April, he said.
Outside of school, Watts was named USA Swimming Scholastic All-American, the Potomac Valley Swimming (PVS) outstanding athlete award in 2015 and is a two-time PVS scholar athlete. As an RHS record holder, Watts continues to excel on the swim team. Awarded newcomer of the year his freshman year on the team, Watts has since won five Maryland Public Secondary Schools Athletic Association state champion titles. His has won three state championships for the 500 freestyle, one for the 200 medley relay and one for the 400 freestyle relay.
Watts is looking forward to the 2018 high school swim season where he will lead the team as a captain.
"I'm excited to meet new people and to bond with my team. I'm also looking forward to the new competitive atmosphere that college swimming offers," Watts said. "I believe that all the phenomenal support I have gotten from all of my coaches and teammates have pushed me to the point where I am now because I couldn't have done it without them."