FDA Regulates Juuls, Bans Flavors Popular with Teens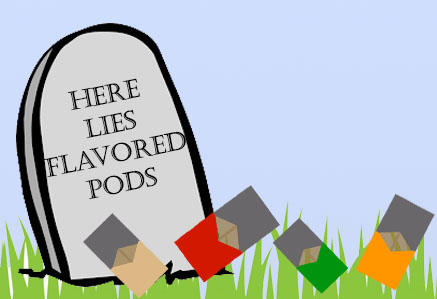 Juul Labs Inc. has advertised itself as an alternative for smokers trying to quit, but is now sparking a new epidemic: nicotine addiction in non-smoking teens.
The Federal Drug Administration (FDA) announced Sept. 12 that vape company Juul would be given 60 days to prove they can keep their product away from minors after increased concerns about flavored pods and their appeal to teens.
FDA commissioner Scott Gottlieb initially raised concerns about young teens purchasing and getting hooked on e-cigarettes in an April 24 statement, saying "protecting our nation's youth from the dangers of tobacco products is among the most important responsibilities of the U.S. Food and Drug Administration."
In response to another statement given Sept. 12, Juul took action on their own and announced it would stop selling Mango, Cucumber, Fruit and Creme flavored pods in convenience stores and gas stations, where teens seem to have an easier time buying them– despite the age restrictions. Vape stores and other stores that are known to follow the legal age restrictions of 18 will still be able to sell pods in all of the flavors offered by the company.  
Prior to the action taken by Juul in the U.S., there were over 900,000 retail establishment inspections that sold tobacco products. The FDA issued 70,350 warning letters to retailers for violating the law, and initiated about 17,000 civil money penalty cases.
Some teachers have noticed that the discreteness of the Juul is what led kids to start using it in the first place.
"They are easy to get away with. You can not smell them and a lot of older people don't know what they are, they look like USB ports," health teacher Katherine Gross said.
Gross does not think that the FDA regulations will significantly affect teen usage of the Juul overall.
"If you are gonna do it, you are gonna do it. Just because it doesn't taste like mango, they are still gonna do it," she said.
For teenagers in the United States Juuls seem to be everywhere. Whether out in public, getting food or at a party, the Juul is bound to be seen one time or another and most likely in the hands of multiple underage users. This is the exact reason why this caught the attention of the FDA, according to the April 24 FDA statement.
Students have noticed that the FDA intervention has had an effect on the availability of Juul products.
"Vape stores and gas stations that didn't previously card now do, and the ones that still don't card raised their prices by a lot," an anonymous senior said. "But I still be ripping that mango on the low."