Administration's Unprecedented Turnover Rate Harms Policies, People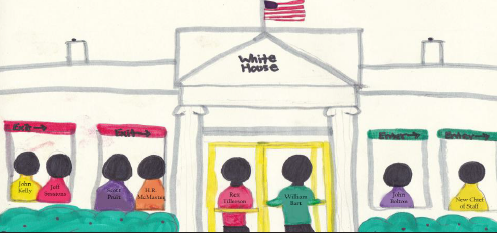 The Trump administration's turnover rate for top officials has shattered records. As of the most recent standings, it is up to nine times as high as previous administrations at similar points in their presidencies. To combat this, President Donald Trump should reduce the turnover rate in his administration by hiring well-qualified candidates with extensive governmental experience.
Employee turnover is defined as the number or percentage of employees who leave a company and are replaced by new employees, according to Professional Employee Organization (PEO) & Human Resources company G&A Partners. Turnover evokes several negative effects, many of which deal with the productivity of the rest of the staff as it adjusts to the changes.
In light of White House Chief of Staff John Kelly's imminent departure by the end of the month, turnover among top administration officials is once again in the spotlight. High levels of turnover for senior officials can be difficult to handle, as every leader has their own style, approach, objectives and preferred practices; when an organization gets a new leader, their productive work slows substantially as it adapts to the disruption caused by the turnover, according to an April 6 article by Harvard Business Review. An effective "rhythm," or way of getting work done, is essential to a successful and productive organization. High rates of turnover make it virtually impossible to establish a normal rhythm.
"When a leader in a presidential administration leaves, it is difficult to maintain organizational focus and the morale of the staff decreases," University of Maryland Professor and Government & Politics Chair Irwin Morris said. "Long term effects could also include limited legislative productivity and lower administrative efficiency and political effectiveness. Also, the administration's low morale and effectiveness is not conducive to attracting top talent."
The turnover rate among Trump's top officials is astronomical compared to his predecessors. A recent New York Times analysis of 21 White House and Cabinet positions found that nine out of 21 positions had been turned over in 14 months, compared to three and two positions for the Clinton and Obama administrations, respectively, and just one for George W. Bush's administration.
Excessive turnover can complicate matters for the White House. To work as a top-ranking official in a presidential administration, one must successfully navigate through lengthy security clearance processes, which now take an average of 111 days, according to White House officials. Once a new team member joins the administration, they face a learning curve for the new job, which is particularly profound in such a tremendously important workplace like the White House. Because of the decreased productivity that comes with high turnover rates, the executive branch's essential role of approving and implementing laws written by Congress will undoubtedly be strained.
Hiring those with sufficient experience in politics is necessary for reducing turnover for senior officials. Politics is a field that is far more complex than business ventures, often requiring the skill to combine "intricate practical challenges with unpredictable political situations," Washington Post opinion writer Paul Waldman said in an Aug. 14 op-ed. Therefore, hiring business people who have no experience outside of the public sector to comprise of an entire third of the presidential cabinet, like Trump has done, is simply unacceptable. If those with ample experience in politics are hired, it is less likely that new hires will be forced to resign after making compromising mistakes, thus reducing turnover.
President Trump has been known to do things differently than past administrations.  However, if he wants his administration to be truly effective in its service to the American people, he will lower its turnover rate, thereby increasing its productivity. He must swallow his pride and hire those who are truly qualified for the job.