If These Halls Could Talk: Cultural Edition
Ireland, India, Bangladesh. Three countries far from Rockville, but the birthplace of three RHS teachers. RHS is a diverse school full of students from all over the world, but many often forget that the teacher population is diverse as well.
Martin McCarrick – Ireland
English resource teacher Martin McCarrick was born and raised in County Sligo, Ireland. He lived on a farm in a rural area at the bottom of the Ox mountains, leading a quiet and scenic childhood.
After college, McCarrick started teaching before deciding in his early 30s to come to the United States. McCarrick described how teaching at the O'Connell school in Ireland, an all boys Christian school, is different from American schools, including Rockville.
"When you walked into the room, [the students] all stood up, and only when the teacher said you could sit, the students could sit," McCarrick said. "I tried that here [at RHS], it didn't work too well."
After coming to the states, McCarrick spent some time at school in California, then moved to New York where he was a carpenter. McCarrick continued his Irish traditions in the United States, as many of his friends were Irish, whom he played Irish football with.
Eventually, he moved back to Ireland where he met his beloved wife and they decided to come back to the states to live and start a family.
With five kids, McCarrick knew he needed a strong profession, so he applied to MCPS where he was hired on the last day of hiring as a teacher in 1989.
Many students do appreciate the character and presence McCarrick brings from Ireland.
"Mr. McCarrick is one of my favorite teachers. He is very smart and knows how to joke around; he's very easy to have a conversation with," senior Luis Cerna said.
Anu Gupta – India
Chemistry teacher Anu Gupta has been teaching at RHS since 2007 and immigrated from India in 1996. Gupta moved to the states after her husband received the opportunity to work in the engineering industry in America.
Becoming a teacher was a lot different than what Gupta originally planned on doing.
"In my house, [being a] doctor was the only option, education was a huge aspect of life, it was all I did, study," Gupta said.
Technology was one aspect of life that was not present when Gupta was in school in India. Gupta learned how to teach and learn the old-fashion way without technology.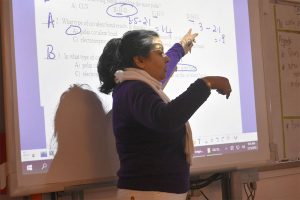 "All we had at school was one computer, no laptops or iPhones with Snapchat and Instagram. We learned the real way of communication, speaking and pencil with paper," Gupta said.
By immigrating, Gupta left behind many family members in India, but with her, she brought many traditions to the states which she incorporates into her teaching.
"Mrs. Gupta has something different about her. She isn't your average teacher; she has passion and [infuses] culture when she teaches. She always brings up examples from India," senior Hailey Suthard said.
Fariha Khan – Bangladesh
AP biology and honors biology teacher Fariha Khan immigrated from Bangladesh at four years old. Coming to the states in 1984 because of her father's work in oil companies, Khan learned the language and the "American lifestyle" quickly, she said.
Khan knew she loved science from a young age, and as she got to college, she realized teaching would be her career choice.
So I really want kids here to know how lucky they are.                          -biology teacher Fariha Khan
Khan became a teacher at Rockville in 2011 but she takes frequent visits back to Bangladesh, inspiring her to raise awareness in the states about how learning conditions are different from her home country.
Making sure students at RHS are grateful for what they have, Khan explains how schools are different in Bangladesh, focusing on how they have more resources than others.
"I often incorporate stories such as how in Bangladesh the schools do so much with so little," Khan said. "So I really want kids here to know how lucky they are."
Many students believe Khan provides a different type of teaching.
"Ms. Khan cares a lot about us, she won't give up on us. If we fail a test or quiz, we have all the opportunities to fix our mistakes and more importantly, learn," junior Nathan Pianalto said.
RHS brings in teachers from all over the globe, which changes the classroom atmosphere.
"Being exposed to teachers with different backgrounds is really interesting, you don't just learn about the class you're in, you end up learning ways of life and certain traditions," freshman Sam Brami said.