Seniors Je'Shaud Armwood and Rajuan Stevens: Best Friends On and Off the Basketball Court
In the Rams 48-47 victory over the Quince Orchard Cougars Dec. 11, most fans were focused on the high-scoring performances of junior guard Jailen Anderson and senior center Jimmy Sorunke. But, what was just as essential to that win, was the chemistry between best friends of seven years, senior co-captains starting point guard Rajuan Stevens and shooting guard Je'Shaud Armwood.
Stevens and Armwood have known each other since fourth grade, but did not become friends until the summer before sixth grade, while playing together at a camp for feeder schools hosted by the RHS varsity basketball team.
"At the first day of camp, we were scrimmaging and I saw how good Je'Shaud was," Stevens said. "He was so much bigger than everyone else and could reach up and get rebounds so easily. That was when we really started becoming friends because we played so well together."
Their compatibility on the court quickly transferred to real life, and they soon became best friends. Though they didn't have any classes together when they began sixth grade at Earle B. Wood Middle School, their friendship continued to develop, and they made time to catch up at lunch and hang out at each other's houses on weekends.
Today, Stevens and Armwood are nearly inseparable.  When not playing basketball, they can be found at Armwood's grandmother's house playing video games, at the Habit Burger Grill –their favorite restaurant–downing double charburgers and fries or betting over whose favorite NFL team is going to win on Sunday. (Armwood is a Dallas Cowboys fan and Stevens is a Washington Redskins fan, two long time NFL rivals.)
"We hang out with each other more than with anyone else," Armwood said. "Rajuan's mom is like my second mom and our families have gotten really close now. We never really fight, unless it's about football or how many times I've beaten him in 2K."
Amid everything they do together, basketball is still their main focus. They've spent countless hours throughout the offseason at Cherrywood Park–sometimes staying up all night to go play one-on-one at 6 a.m.–and then going back to Armwood's grandma's house and sleeping the rest of the day, but not before exposing the loser on Snapchat.
"I think playing each other one-on-one is what really helps us when the season actually starts," Armwood said.  "We're not the type to cheer for each other and be like 'you got it, you got it', but we know each other's best moves and when we're shooting we give each other pointers. It helps us build chemistry, so I always know where he's gonna be on the court."
This is their third year on varsity under coach Todd Dembroski, coming off a division-winning season last year.  Armwood and Stevens, along with small forward Matt McTighe, are the only returning starters from last year's team and were chosen as captains this year.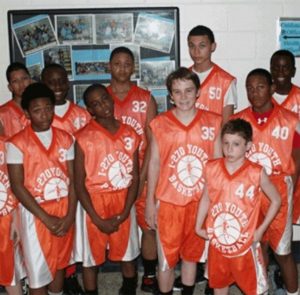 "Their leadership is one of the main reasons why [I chose them as captains], but also their experience. They were a big part of our team last year that was successful so they know what it takes to have a successful season," Dembroski said. "I think they've come along way as players, and hope they're able to reach their full potential this season."
Like Dembroski, Armwood and Stevens hope that the work they put in over the offseason will help them succeed and become better leaders this year.  As captains, they aim to lead by example and set a standard for the team.
"Even in games where we're getting blown out, we try to lead by example, and never put our heads down or get frustrated with each other," Stevens said.  "We take the blame when stuff is going bad, we're not gonna put it on anyone else."
Their leadership has already earned the respect of many of their teammates, who look to Armwood and Stevens to set the mood and focus at practice.  They know there is a time to have fun, but there is also a time where they need to be focused on practicing.
"Jeshaud and Rajuan are always geeking together," senior teammate Eric Hernandez said. "So when they get serious at practice, we all know we better get serious too.  It's not time to mess around anymore, we gotta focus."