MCPS Addresses Recent Hazing in Light of Damascus Charges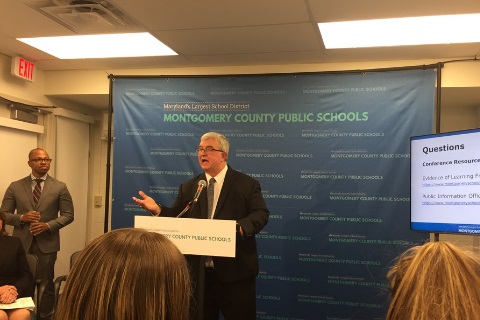 Following the alleged hazing and sexual assault at Damascus High School Oct. 31, MCPS is giving renewed attention to hazing and its implications.
Four 15 year-old Damascus HS junior varsity JV football players were charged on five different counts each: one count of first-degree rape, three counts of attempted first-degree rape and one count of conspiracy to commit rape after an alleged locker room attack on other JV players. The players were then indicted Nov. 29, adding an additional three counts of conspiracy charges, according to a Nov. 30 Washington Post article. All four are being tried as adults. A fifth student is also being charged as a minor.
The alleged assaults have shed light on the existence of hazing in MCPS and have prompted calls for renewed awareness in adult supervision of after-school activities.
"There have been a handful of reported cases of hazing over the last decade, though none have come close to the behavior alleged at Damascus High School," MCPS Director of the Department of Communications Derek Turner said. "Hazing is typically treated as an incident of bullying and harassment, though depending on the behavior it may also be characterized as a physical attack."
The Rampage reached out to Damascus HS principal Casey Crouse and athletic director Joseph Doody but both declined to comment on the alleged hazing for this article.
Following the incident, MCPS sent counselor psychologists to Damascus HS to support students and issued several public letters and videos to inform the MCPS community of the allegations and steps MCPS would be taking. In addition, coaches and athletic directors were told to speak with students and sports teams, presenting information about the severity of hazing and how to report it.
"As a county, we pride ourselves in being caring and showing concern for others," MCPS Superintendent Jack R. Smith said in a Nov. 3 letter to the MCPS community. "Let us live up to this standard by showing kindness and compassion to the Damascus community with our words and our actions."
As a county, we pride ourselves in being caring and showing concern for others.             -Superintendent Jack Smith
In the presentations, students were taught the importance of promoting positive social interactions and the negative mental and physical effects, as well as legal consequences of hazing. A presentation was held Nov. 16 at RHS at lunch by athletic director Michael Hayes, presented to all fall athletes.
At RHS, many sports teams and clubs have long standing team traditions and social activities to help teams bond.
"Building trust off the field helps a lot in the game and especially helps the younger kids whether they be on varsity or JV," senior boys varsity soccer captain Colin Carroll said. "These kids are new to the school and don't know a lot so I try and help them as much as I can personally, whether it being school problems or problems outside of school."
RHS recently installed three mirrors in the boys locker room, and has started enforcing stricter locker room policy. Locker rooms will be locked in the morning until 7:40 a.m., and will be closed in the afternoon unless a coach opens it. Students also need an adult to access the weight room.
Senior girls varsity basketball captain Emily Huynh recognizes the impact hazing can have on people, and strives to promote a positive social culture on her team.
"It's important to make everyone feel welcome so that we can build a good team chemistry that will transfer on the floor and make playing more fun," Huynh said. "I feel like people who participate in negative actions like hazing get away with it too often."
One and a half million high school students are subjected to hazing each year and 47 percent report being hazed while in high school, according to the University of Maine's 2007 Hazing in View: Students at Risk study.
"Hazing is, more or less, trying to put power over a weaker group of kids, or [trying] to show who has power and then individuals will go along with it because they don't want to feel left out," psychology teacher Christine Zafonte said.
As the Damascus HS incident is an ongoing investigation, MCPS is aiding law enforcement as best as possible. To report bullying or harassment, a form can be accessed on the MCPS website.
"MCPS staff remain vigilant in identifying potential incidents of bullying and harassment, but the strongest tool for prevention is students," Turner said. "If students see something or hear something that indicates a student might be the victim or perpetrator of bullying, harassment or hazing, they should immediately report it. Students are often the most aware of their fellow students – both how they are treated and how they treat others."