Recent Bus Accidents Prompt County Plan to Install New Signage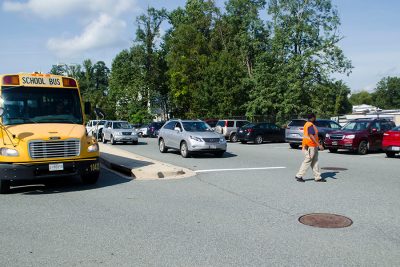 In response to a recent accident involving a school bus, Montgomery County Public Schools (MCPS) and the Maryland Department of Transportation (MDOT) made plans to install new signage at five county bus stops to ensure vehicles do not pass buses that are stopped.  
An MCPS school bus transporting students to Farquhar Middle School collided with a garbage truck Nov. 5 leaving nine students and the bus driver injured, according to the Montgomery County Police Department (MCPD).
All 39 students on the bus were examined for injuries and the injured students were then transported to a local hospital, all with non-life threatening injuries.
The crash closed part of Norbeck Road between Georgia Avenue and Layhill Road in both directions for an investigation lasting about four hours.
In addition to the new signage, MCPS has installed safety cameras on roughly 1,200 buses, which are used to catch vehicles who fail to stop for buses and kids at the crosswalk.