Marching Band Revamps for 2018 Season to Improve Routines, Scores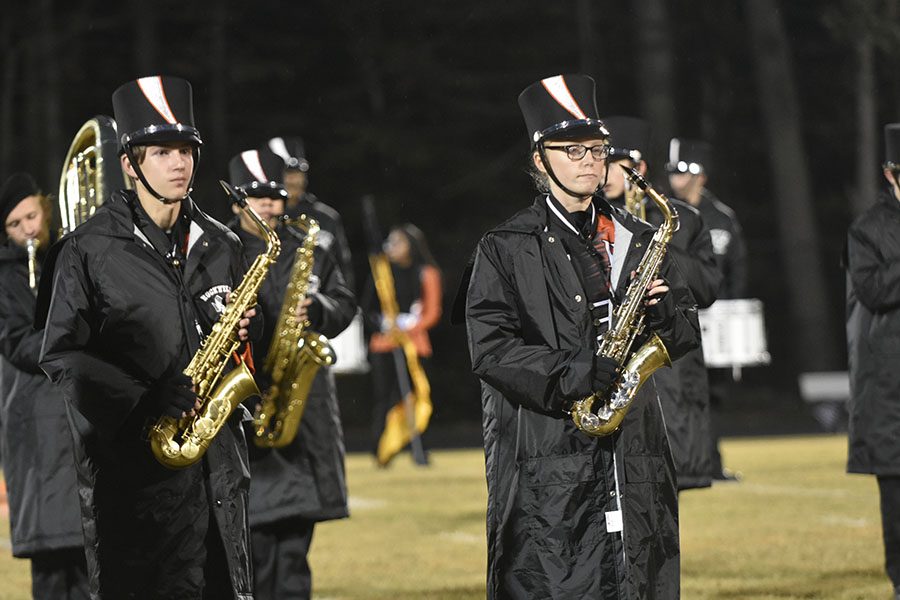 On the sidelines at football games and in the gym at pep rallies, cheers from the crowd fill the air, and a fundamental element to the growing energy at these school functions is the marching band. They provide entertainment and bring the community together while also breaking records at their competitions.
What many people do not see behind the scenes is the hard work and competitiveness that the band puts forth in order to make a cohesive and captivating sound at school and competitions.
This being her second year at RHS, marching band director Nicole Sherlock aimed to boost the group's competitiveness and improve their sound as a whole ensemble, she said. The biggest addition to this year's band was the new staff members from Stevenson University who are committed to helping students, and as a result, made the band stronger, Sherlock added. These members provide feedback to the band and help with some of the responsibilities to improve the band as a whole. There is one new color guard staff member, two percussion staff members and two more staff members who work with the wind players and the visual elements.
"I've seen growth in all aspects of it [the marching band]: our music, which was a lot stronger from this year to last year and also in the cohesiveness of the show," Sherlock said. "We have to focus on all of [the aspects] so we have a balanced program."
The band has participated in three competitions this year: the U.S. Bands Mid-Atlantic Championships at Towson University, the U.S. Bands Competition at Arundel High School and most recently, the Mid-Atlantic Regional competition at Urbana High School. After each competition, the marching band draws on the critiques from judges to prepare for future competitions.
Since the group has moved up to Division II based on their size, the scoring is more demanding, yet the band has improved on their scores following each competition. The scoring is based on a point system of music performance, marching performance, the general effect of the group called "visual," percussion and the color guard. Their first performance earned them a score of 79.5 and had a large jump to 87.225 at their second competition. Their goal for their last competition was to surpass the highest score in RHS marching band history of 87.625– and the group did just that, earning themselves an 88.85.
"It's awesome that we have come so far, but I don't think the current band should be compared to others from the past," junior co-percussion captain Matthew Pitman said. "I believe our best has not been reached, and comparing ourselves to what we could be leaves me a little disappointed in our results throughout the season. This season was a great springboard for next year where I expect us to break even more records."
Although some think that the marching band is mainly about its music, the group composed of 40 students has several aspects that contribute to its overall effect. There is the creativity behind the visual aspect of marching and the actual music that creates a different art form that stands out from regular concert band, senior drum major Gaby Sanchez said.
"I think we're presenting something this year that has never been done before with this band–[there is] a lot more of an abstract concept with our show and I think for the audience. It's a bit more surreal and also exciting because rather than just having the themes and what's [being  presented] right in front of you, it's something they have to explore and is an actual experience and a story," Sanchez said.
As the band continues to grow through both their musicality and size, they continue to accept students of all skill levels as they build the program. Even if a student doesn't read music, there are still several other aspects that the band can teach them if they are interested in joining, such as color guard or the front ensemble which is the mallet instruments, Sherlock said.
"We are always open to having other people join our band that are not necessarily wind players. So it's not just exclusive to kids that are in band and orchestra," Sherlock said. "We can take anybody in the school that's really interested and wants to be dedicated to learn an instrument and be part of the group."
About the Contributor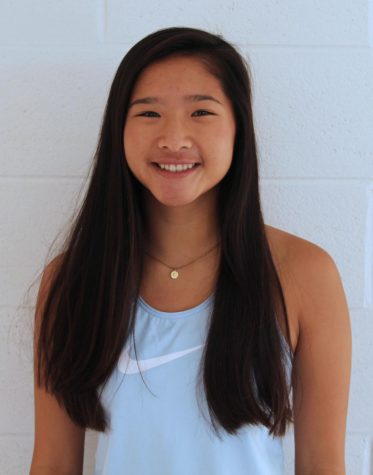 Elenna Mach, Editor-in-Chief
This is senior Elenna Mach's second year as Editor-in-Chief after being Sports Managing Editor her sophomore year. She has been a part of the journalism...