If These Halls Could Talk: Steve Mirman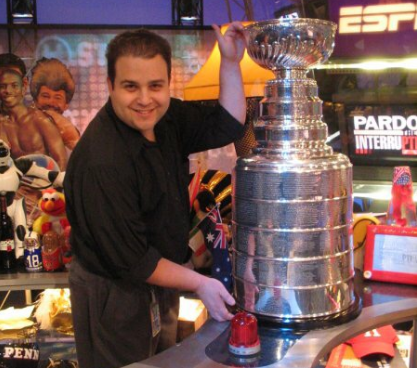 While many students enjoy the morning show, the fall and spring drama performances, graduation and the screens that show information in places such as the main hallway, not everyone knows who exactly runs the technology for these events and features behind the scenes.  
Media Service Technician (MST) Steven Mirman joined RHS in 2014, coming from a variety of jobs in broadcasting at Comcast Sports Network (now NBC Sports Washington) and Atlantic Video, working primarily with sports.
Students who work with Mirman are aware of his passion for video as he speeds through directions full of technical details, checking for quick nods of recognition. What students don't know is that before he helped students set up tech for drama productions and create segments for the morning show, he worked with many well-known celebrities and even had the chance to work with a hero of his.
"There used to be a show called 'Politically Incorrect' with Bill Maher," Mirman said. "They decided to do an episode of this show from our studios at Atlantic Video, and I was helping out with a couple of things, and his celebrity guest was my celebrity hero, Robin Williams."
While working with NBC Sports Washington, Mirman got to meet many stars such as all-star baseball player Cal Ripken Jr, Washington Capitals team captain Alex Ovechkin and comedian Bill Maher.
With a degree in Communications from Towson University and his experience in broadcasting, Mirman saw opportunity in the RHS morning show and sought to work with students to improve it.
"When I came in and saw how they were doing it, I thought, well, we can do that a whole lot better," he said.
Mirman has found that the hardest part of his job is balancing his work as an MST, while also being an unofficial teacher at RHS. Every morning Mirman works with students in the TV studio to produce the morning show with English teacher and director of the drama program Krista McKim.
"Mr. Mirman knows a lot about what he's doing. He's very understanding of the needs of people he works with," senior intern Jack Sobel said.
Last year, Mirman inherited the role of technical director for the drama program. This involves him overseeing all of the crew, and working with them to build sets and stage pieces. While Mirman had run other events in the past, such as graduation ceremonies and concerts, he had never ran something as long lasting and complex as a play.
"He really knows his stuff when it comes to technical aspects. He really understands all the wiring aspects, he understands sound levels, and lighting levels, things that I just kind of try and make due, and it doesn't work so well," McKim said.
Despite Mirman's technical knowledge, he's still learning.
"In the words of Indiana Jones, I've been making it up as I go along," joked Mirman.
Though being the Technical Director of the drama program has been a learning experience for Mirman, he said he felt that his prior knowledge of how the stage works, along with his dabbling in theatre while attending high school at Walter Johnson, prepared him to take on the job.
When Mirman's not producing the morning show or staying after school for play practice, he enjoys spending time with his family and playing softball as the pitcher for his recreational team.
"I'll sit out there and play ball all day any day whenever the weather cooperates," he said.
When the weather does not cooperate, he said he enjoys watching movies with his daughter, who goes to Lucy V. Barnsley Elementary School. Whether it be "Lord of the Rings," or superhero comics, or the Star Wars films (except episodes 1, 2 and 3), Mirman enjoys a good sci-fi story and loves introducing his daughter to the films and stories he grew up with.  
"I think it's important to always keep one foot in the real world and not get too absorbed in any of these things," he said, "but it's good to have some imagination."