If These Halls Could Talk: Aleyda Portillo
Working behind a glass window in the financial office is one of the most overlooked staff members at RHS, Aleyda Portillo. Students visit Portillo to pay an obligation, buy a parking pass or buy a ticket to the school dance. Many don't realize how large of a role she plays in the RHS community as financial specialist and aid to school business administrator David Stough.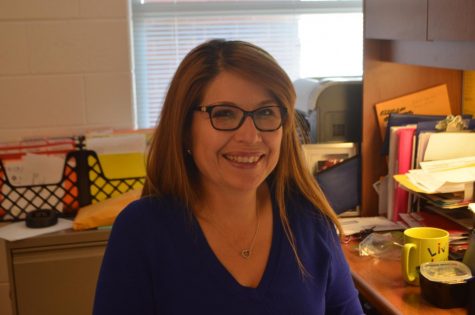 Portillo was born and raised in Guatemala by her grandparents and her aunt. She attended a private Catholic junior high school in Guatemala City, Guatemala until she was 15, when she and her parents moved to the U.S.
In the Hispanic culture, a quinceanera is one of the most celebrated events in a woman's lifetime. It celebrates one's transition from childhood to adulthood. Usually, this major event comes with a special gift. For Portillo, her gift was being able to move to the U.S. with her family, she said.
Portillo attended Montgomery College, then Bowie State University, finishing her academic career at the University of Maryland, College Park.  Before her job at RHS, Portillo worked at Cannon Road elementary school in Silver Spring for two years, and Burnt Mills elementary school in Silver Spring for 24 years as the administrative secretary. A small part of her daily routine was finances which she said she enjoyed. She wanted to further her career in finances and ended up at RHS as the financial specialist, playing a major role in the RHS community.
¨She's very patient and caring. Whether it's staff with payroll issues or students lined up down the hall with obligation questions, Mrs. Portillo takes time with each person to make sure the problem is resolved, even if the lines are long and time is short," Stough said. "Every day seems to be the due date for something, and she's always on top of it, with the right paperwork ready to be signed and submitted to wherever it needs to go."
Her average day consists of ensuring students have paid their dues so they are eligible to engage in extracurriculars, classes and school events.
Although she may seem shy, she loves interacting with students on a daily basis.  
¨Every time I go to the finance offices she is always so nice and on top of her game. She seems like she always knows what to do. More people need to meet her, she's awesome,¨ senior Parker Shugars said.
Portillo first started working at RHS in 2015, and said she felt welcome in the community immediately.
"I love the people that I work with. I love the kids. I've been here for three years, and never had a bad experience with anyone," she said.