Students Walk Out, Protest in D.C.
Tens of thousands of students walked out of school Wed. March 14, one month after the Marjory Stoneman Douglas (MSD) High School shooting in which 17 people were killed. Across the nation, students walked out of class at 10 a.m. for 17 minutes of silence.
Many schools across the D.C. area walked out of school to attend a march in D.C. Students gathered at the White House at 10 a.m., and sat down facing away from the White House to participate in 17 minutes of silence, one minute for each victim of the MSD shooting. The students then walked from the White House to the Capitol, where they were met by different speakers and politicians.
"I think that it's really important for us as students to face this and to come out and to show that we are the future generation and that we are going to make a difference in this," junior Ava Zakikhani said. "I think that as the future generation we're showing the direction that our nation is headed in."
Students marched through the streets yelling chants such as "This is what democracy looks like" and "Hey hey, ho ho, gun violence has got to go" When they arrived at the capitol, different members of Congress, such as Nancy Pelosi and Bernie Sanders, spoke to the students.
Schools across the country not within a metro ride from the White House participated in the protests in different ways. Students at MSD gathered on the football field in order to protest. The Women's March Youth Empower organization helped to organize the walkout, and encouraged teenagers to register to vote.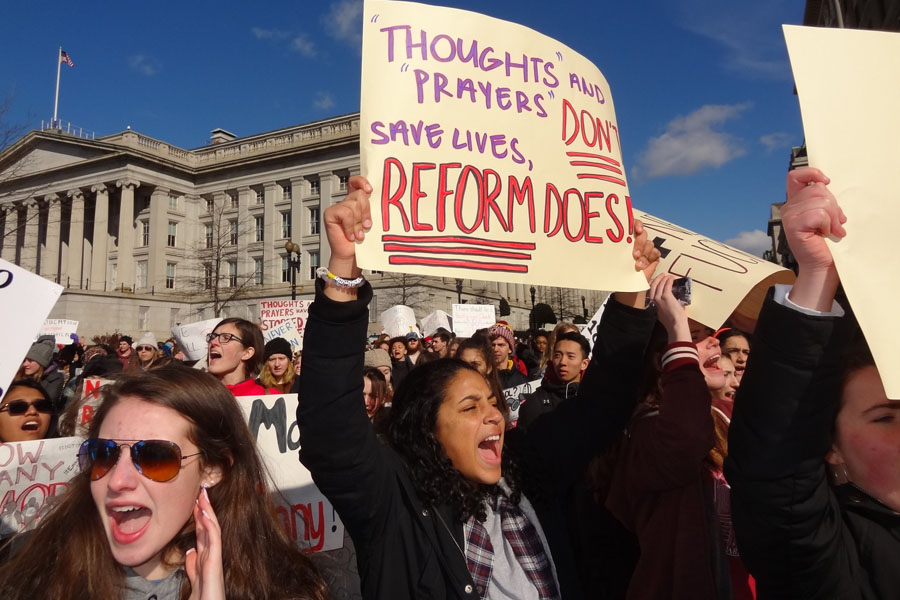 "I think it's extraordinary," Md. Congressman Jamie Raskin said of the march in D.C. "It's a taste of what's going to happen Saturday March 24"
However, due to safety concerns, many schools across the country did not support students walking out of class and threatened disciplinary measures like suspension. At RHS students who did not walk out were able to walk down to the gym at 10 a.m. in order to participate in the 17 minutes of silence, while those who chose to walk out received an unexcused absence for the day and were not able to participate in any extracurricular activities that day.
Junior Emma Mejia took the Metro to the March with her friends to promote stricter gun control. Mejia said that while she thought the absence should have been unexcused with a parent note, she also said that the unexcused absence was not a deterrent for her because the cause was worth it.
"For those people who are afraid for it, and the people's whose parents are concerned for them to have an unexcused absence, it probably limited a bunch of people into not going, but for the people who are really motivated and that really care a lot about this cause– it doesn't really matter to them," junior Emma Mejia said.
Ultimately, many students recognized that it would not be possible to take away all civilian guns, and that the current goal was to have stricter gun control policies, including a ban on stocks, and more comprehensive background checks.
"I hope that we get stricter gun control laws, and we people should not be allowed to buy assault rifles– that's ridiculous," junior Claire Myers said.