Celebrating 50 Years At Rockville: Sports Edition
December 11, 2017
1,396 total views, 2 views today
As part of RHS' 50th anniversary celebration, The Rampage interviewed alumni about their time playing sports in high school and college. The sports edition focuses on standout RHS athletes and some teams that made it to the state finals.
Jeremy Schuhmacher ('95)
847 total views, 1 views today
Jeremy Schuhmacher ('95) was a dominant athlete in his class as a three-sport athlete playing football, basketball and baseball during his four years at RHS.
For some people, three sports throughout high school can be difficult to manage, but for Schuhmacher, playing sports was one of the best things about high school, he said. Schuhmacher played a variety of positions including cornerback, kicker and mostly tight-end on the football team, guard on the basketball team and pitcher and outfielder for baseball. He looked forward to sports as well as hanging out with his buddies on the team during practices and games.
"All of my [best high school] moments come down to just the people," Schuhmacher said. "My good friends and my teammates, we spent so much time working out, going to practices and the games and all those great memories. Those kind of impressions, those things last a lifetime."
Schuhmacher proved he was a top athlete when he was named an All-County football player for the tight-end position during his senior year. After graduating from RHS, Schuhmacher was supposed to go to Salisbury University to play football. However, due to financial issues, he decided to take a year off and graduated from the University of Maryland College Park in 2000, majoring in Criminology and Criminal Justice.
Schumacher currently works in the D.C. Superior Courts as a supervisory pretrial services officer and has been working with this agency for the past 20 years. An essential part of building a future is creating connections with other people as you grow up because it will truly benefit you in the long run, he said.
"Always think about your future. It comes faster than you think, so looking back I wished I worked a little bit harder to prepare myself for the rest of my life," Schumacher said. "When you're a kid you just do whatever and think you're gonna be young forever, but it goes by fast so enjoy it and work hard to up front so things work out for you or are easier later on in life."
Schuhmacher and his wife, Evie of 17 years, began dating in eighth grade and are still together. They now have two daughters; the youngest, Makayla, is a freshman in high school and the oldest, Ella, is attending her first year at South Carolina University.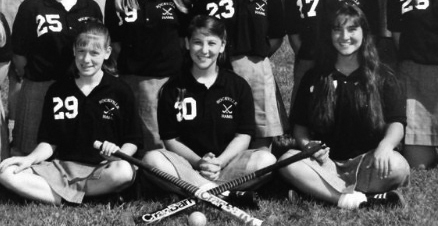 Photo courtesy of Lauren Mencarini Essig
Lauren Mencarini Essig('96)
746 total views, 1 views today
While attending RHS Lauren Mencarini Essig ('96) had a successful and busy athletic career, playing and winning multiple awards for field hockey, basketball and softball.
With her combined impressive academic and athletic abilities, Essig won Player Award (MVP) for field hockey her senior year, the basketball Scholar Athlete Award from the U.S. Army Reserve and made the senior all-star field hockey team.
"Lauren had a lot of power and speed packed into her little frame," former softball teammate Kim Magro ('97) said. "[She] was a leader on and off the field. She was a positive role model and always full of encouragement."
Essig attended the University of Delaware and played intramural basketball and softball. She studied to become an exercise physiologist, but instead became a PE teacher and boys soccer coach, as well as a mother and wife.
Looking back, Essig recalled some fond memories of playing sports at RHS, such as TP'ing coaches' houses, listening to Pearl Jam in the car on the way to basketball practice and playing a softball game on the day of prom with manicured nails.
"That's what Rockville did for me, really built me up, felt secure [so] I could be successful at what I did," Essig said. "Those were the best days of my life…I remember it like it was yesterday."
Andrew Stroud ('94)
863 total views, 1 views today
Andrew Stroud ('94) was a leading athlete during his time at RHS winning back-to-back state wrestling championships as a junior and senior and contributing to the 1992 and 1993 soccer state championships.
Stroud first took up wrestling as a way to stay in shape for the next soccer season, not expecting to be as successful as he was in the heavyweight class. Stroud was also wrestling captain in his junior and senior years, putting up a career record of 84-14, which earned him a spot on the All-Metropolitan team in 1994.  Stroud finished his senior year with a perfect record of 27-0.
"[In 1994,] I expected to win [the state final match] but it was really hard," Stroud said. "When I got to the state finals [I was] like 'There's no way I'm going to lose this.'… It was an amazing feeling and it really felt good for my coach too… so it was really cool."
Edward Heintzelman was Stroud's RHS wrestling coach and was an important influence to him and an incredible coach, Stroud said. Under his coaching, fellow wrestler Tim Barone was able to win the 145 lbs weight class Maryland 2A/1A state title with a record of 21-5 in his senior year ('94).
Despite his success with wrestling, Stroud said he loves soccer more, having played soccer his whole life. He grew up playing soccer with his two older brothers, John Stroud ('87) and Jeff Stroud ('89). Former midfielder John Stroud was the Washington Posts' soccer player of the year in 1986 and was an All-Metropolitan player 1985-86 leading RHS to a 15-1 record with their only loss in the state championship game. He was also named an All-American player in his senior year and continued his soccer career playing at DI James Madison University.
Jeff Stroud was also a standout RHS athlete winning the 1989 Model Ram award and leading RHS' boys varsity soccer team to the 1989 Maryland Class 4A State Title.. Jeff Stroud graduated from the University of Maryland in 1993 where he scored four goals in 1991 and 10 goals in 1992 for the D1 men's soccer team. He was also honored in the second team All-Atlantic Coast Conference in 1991-92.
As a center midfielder, Andrew Stroud was also on the All-Met first team for soccer in 1992. After graduating from RHS, Stroud received a full scholarship to the D1 Towson University to play on the men's soccer team where he earned his Bachelor's Degree in elementary education and teaching. By playing high-intensity sports throughout his childhood and his teenage years, Stroud learned that in order to succeed, athletes must practice as much as they can to become exceptional at the sport.
"There's no such thing as too much training and too much preparation," Stroud said. "Playing games against other people and just doing the game is not enough. You have to actually take on what you're worst at and practice that until it becomes your best thing."
Much of the Stroud brothers' athleticism comes from their parents, Barbara Stroud and Walt Stroud. Barbara Stroud, Springfield HS ('63)  was part of the U.S. women's national lacrosse team and was inducted into Springfield Area Educational Foundation's Athletic Hall of Fame in 2013. She also played field hockey and lacrosse at East Stroudsburg University and is currently a teacher in MCPS. Both Walt and Barbara Stroud were co-coaches for RHS girls lacrosse about 10 years ago.
Andrew Stroud now lives in Fort Lauderdale, Florida where he is a successful senior account manager selling medical specialty sales. He no longer wrestles or plays soccer, but tries to play beach volleyball whenever he gets the chance.
Tim Hancock ('97)
724 total views, 1 views today
Tim Hancock ('97) was one of the most accomplished RHS athletes, though not as part of any RHS team; Hancock showcased his talent at the national and collegiate level by competing professionally as a high school student.
Hancock was part of the U.S. National Cycling Team while attending RHS, won the title of U.S. National Cycling Champion in 1996 and then became the Collegiate National Cycling Champion at Penn State in 1998. Hancock did participate in JV baseball his freshman year for RHS.
Adding to his long and impressive resume, Hancock attended the Pan-American Games, competed at world championships in high school and college, went to the Olympic Trials in 1996 and 2000, and raced with cycling athletes Lance Armstrong and Floyd Landis.
"Tim was extremely driven, dedicated, and passionate about his sport of cycling," classmate Kim Magro ('97) said. "It was this drive to be the best that took him to national and international competitions while still in high school.  Truly exceptional."
Hancock grew up in San Jose, CA where BMX racing and road biking were popular. This is what sparked Hancock's interest as he initially started out road biking, he said. Hancock moved to Maryland in the fourth grade and further pursued his interests of biking and cycling.
During his training season as a high schooler, Hancock estimates he spent about 18-22 hours a week on a bike, completing training logs, studying upcoming courses and going to the gym.
"We had to log in hours, we had specific [training regimens], depending on what was coming up," Hancock said. "If it was world championships, pan-american games, national championships, you had a specific training regimen, it was dependent upon if you were going to like Europe, the alps, you would have a completely different training regimen than if you were going to somewhere in southern California, which is more flat."
As Hancock competed with the U.S. National Team, meets and races were all over the country, as well as international, causing Hancock to travel a lot, but also miss many school events and classes.
"I missed homecoming a couple times for racing, and I missed a lot of things, just because I was away a lot with racing," he said. "I actually remember how as I get older, just going and seeing the same faces every day [at school], it always seemed so exciting…it was just so nice seeing the same people every day."
Hancock attended Pennsylvania State University with a full ride from the U.S. Olympic Committee Grant, and stopped biking a year after he graduated, as the sport of cycling was coming under intense scrutiny from high-profile doping cases, and he also wanted to explore the world.  
Chris Goodwin ('08)
888 total views, 1 views today
Christopher Goodwin ('08) a Maryland state tennis champion, shattered records throughout his time at RHS and college at Emory University in Atlanta, Georgia.
Goodwin was ranked the number one player in the Mid-Atlantic Region in the Boys 12s, 14s and 16s divisions during his time at RHS. During his senior year, Goodwin had a perfect 21-0 record, also winning the state tennis championship which got his name and a banner on the walls of the RHS gym.
"I was really happy 'cause my sophomore year I got to the finals and lost so I was happy to get back and finally win it," Goodwin said. "I used to like [playing tennis… ] just for the competition and it was actually cool to be on teams at Rockville and at Emory. Even though it was an individual sport, I liked the team aspect of it as well."
After graduating from RHS, Goodwin attended the DIII Emory University and continued his tennis career while earning his Bachelor's degree in history.
To prepare to play at the college level, Goodwin stayed dedicated to the game, continuing his tradition of practicing five days a week which he started when he was 12. He added that playing against opponents in tournaments in the area growing up also helped prepare him for more serious play.
In his freshman year at Emory, Goodwin was named the 2009 National Rookie of the Year. By the end of his time in college, Goodwin was named Emory's all-time leader with 100 singles victories with a .806 winning percentage, which is ranked fifth on Emory's all-time chart. He is one of only two Emory men to win the NCAA Division III Singles, defeating teammate Dillon Pottish. Goodwin also holds the school's record 95 doubles victories.
After years of competitive tennis, Goodwin returned to MD and currently teaches at Herbert Hoover Middle School in Potomac, Maryland.
"I thought it would be good to be a world studies teacher and just being in the classroom felt right, felt natural and I've really been enjoying it since I started," Goodwin said.
Jovi McAndrew ('86)
721 total views, 1 views today
Jovi McAndrew ('86) is one of many great RHS alumni who played football and baseball, but one of few who earned such distinguished recognition and success.
McAndrew played quarterback for football and second base for baseball and was awarded the prestigious All-Met All-County honor his senior year for his baseball performance. He also helped bring the RHS varsity baseball team to the state playoffs for three consecutive years: his sophomore, junior and senior years.
McAndrew played JV football his first two years of high school, and then varsity his last two years. For baseball, McAndrew played one year on JV baseball and then the rest of his high school career on varsity.
While at RHS, McAndrew had many invaluable memories and lessons, most of which were derived from sports.
"I can remember sitting on the bleachers in the first day of football practice as a ninth grader…and Tommy Manuel [coach]  saying 'you're going to have plenty of time to work, focus on your athletics and academics while you're in high school,'" McAndrew said.
McAndrew continued playing baseball through college, first at Francis Marion University and then University of South Carolina 1991 where he earned a degree in sports management. McAndrew currently does commercial real estate, office leasing.
McAndrew continues to apply the valuable skills and lessons he acquired at RHS to his life today.
"I've always been very competitive, in the industry that I am in it's always very competitive as well," McAndrew said. "I think sports teach you that–really high school starts forming that work ethic, and your ability to sort of go to the next level."
Looking back, McAndrew still keeps in touch with some former teammates and friends, and emphasizes the importance of doing well academically.
"When you look back on it now, getting good grades…you're saying, wow, that's pretty important," McAndrew said.
Nonetheless, McAndrew advises enjoying life and high school while students can.
"Don't be afraid to take chances, be who you are, and enjoy it."
Photo Courtesy of Chouassi Tshingmanga
Chouassi Tshingmanga ('12)
1,115 total views, 1 views today
Chouassi Tshingmanga ('12) was a star soccer player during her time at RHS and graduated to play for the D1 women's soccer team at George Washington University (GW) for two years.
After spending a year at John F. Kennedy HS, Tshingmanga transferred to RHS for the International Baccalaureate (IB) program, where she excelled in academics with a 4.0 GPA, and contributed to the girls soccer team. Tshingmanga averaged 12-15 goals per season at RHS.
"[Tshingmanga's] competitiveness on and off the field was unparalleled," athletic director Michael Hayes said. "She was always striving to do her best and push others to do the same."
At RHS, Tshingmanga said she always looked forward to the fall season because she enjoyed playing soccer with her friends who all strived toward a common goal: winning a division title.
Her most memorable moments were the division title games in all three years that she attended RHS. After two years of falling short of a division win, in her senior year, Tshingmanga finally carried her team to the division title when they defeated Damascus HS and finished their season with a 5-7 record.
When she wasn't on the field, her free time mostly consisted of writing poems, listening to music, running indoor track and reffing club soccer games such as the Montgomery Soccer Incorporated (MSI) team.
To prepare for her D1 collegiate soccer career at GW, Tshingmanga made sure that she was in the best shape possible by constantly getting touches on the ball, playing club soccer, running track and working out over the summer to prepare for the season.
Tshingmanga said that time management is especially important for students playing a sport in college due to the hectic schedule.
"Just [make] sure that you use your day efficiently because you're going to be waking up in the morning or at night– whenever time the practice is– you're going to be spending time towards that; you have to still be focusing in class and you still have to get your work done and there's no excuse for it," Tshingmanga said. "Just because you're a division–whatever the case is– athlete, doesn't give you an excuse to slack on your studies."
During her sophomore year at GW, Tshingmanga suffered a severe concussion and spent most of her off-season trying to recover from it. Tshingmanga ultimately decided to end her soccer career and focus on her education. She graduated from GW after her fourth year with a Bachelor's degree in biology and a minor in psychology.
Currently, Tshingmanga works at a dermatology office as a medical assistant and is applying to medical school in 2018.