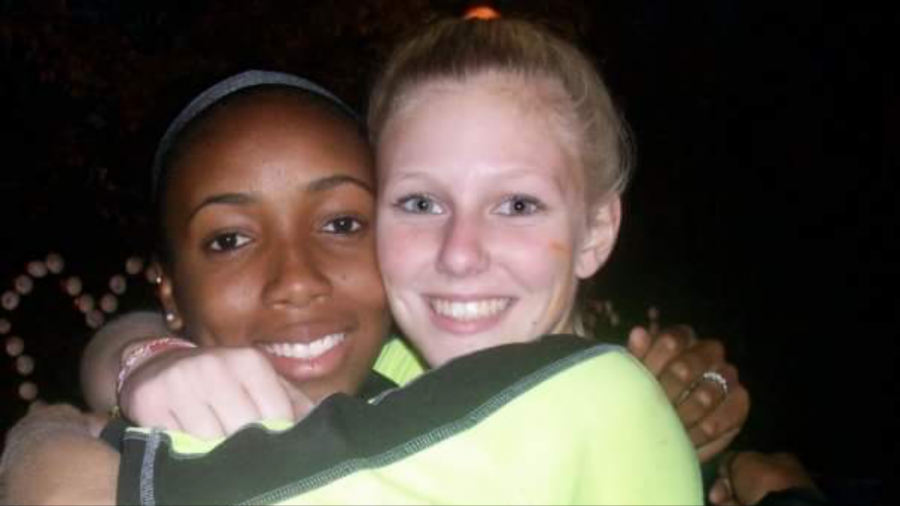 Photo Courtesy of Chouassi Tshingmanga
Chouassi Tshingmanga ('12)
December 11, 2017
Chouassi Tshingmanga ("12) was a star soccer player during her time at RHS and graduated to play for the D1 women's soccer team at George Washington University (GW) for two years.
After spending a year at John F. Kennedy HS, Tshingmanga transferred to RHS for the International Baccalaureate (IB) program, where she excelled in academics with a 4.0 GPA, and contributed to the girls soccer team. Tshingmanga averaged 12-15 goals per season at RHS.
"[Tshingmanga's] competitiveness on and off the field was unparalleled," athletic director Michael Hayes said. "She was always striving to do her best and push others to do the same."
At RHS, Tshingmanga said she always looked forward to the fall season because she enjoyed playing soccer with her friends who all strived toward a common goal: winning a division title.
Her most memorable moments were the division title games in all three years that she attended RHS. After two years of falling short of a division win, in her senior year, Tshingmanga finally carried her team to the division title when they defeated Damascus HS and finished their season with a 5-7 record.
When she wasn't on the field, her free time mostly consisted of writing poems, listening to music, running indoor track and reffing club soccer games such as the Montgomery Soccer Incorporated (MSI) team.
To prepare for her D1 collegiate soccer career at GW, Tshingmanga made sure that she was in the best shape possible by constantly getting touches on the ball, playing club soccer, running track and working out over the summer to prepare for the season.
Tshingmanga said that time management is especially important for students playing a sport in college due to the hectic schedule.
"Just [make] sure that you use your day efficiently because you're going to be waking up in the morning or at night– whenever time the practice is– you're going to be spending time towards that; you have to still be focusing in class and you still have to get your work done and there's no excuse for it," Tshingmanga said. "Just because you're a division–whatever the case is– athlete, doesn't give you an excuse to slack on your studies."
During her sophomore year at GW, Tshingmanga suffered a severe concussion and spent most of her off-season trying to recover from it. Tshingmanga ultimately decided to end her soccer career and focus on her education. She graduated from GW after her fourth year with a Bachelor's degree in biology and a minor in psychology.
Currently, Tshingmanga works at a dermatology office as a medical assistant and is applying to medical school in 2018.