Taylor Swift's "Midnights" is a Pop Genre Reset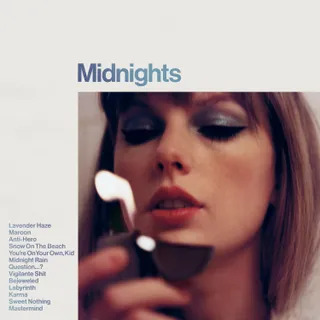 Taylor Swift has done it again; the release of her 10th studio album Midnights highlights a unique and unexpected look on the pop genre. 
In her announcement of the album on social media following the 2022 MTV Video Music Awards, Swift expressed, "Midnights, the stories of 13 sleepless nights scattered throughout my life, will be out October 21. Meet me at midnight."
Then, at midnight on October 21, 2022, Swift released the 13-song long tracklist, with a surprise release of seven more songs at 3 am titled Midnights (3am Edition). 
With Midnights, Swift turns a new leaf on pop music. Her two most recent albums both released in 2020, folklore and evermore, contained slow and rhythmic, almost ethereal tones. With songs like "Exile" and "Gold Rush" featuring drawn-out, love-stricken lyrics, fans speculated how Swift's 10th album would sound in comparison.
On Midnights, Swift steps away from the fictional narratives of her previous works and explores autobiographical songwriting more closely related to her recent pop albums, Lover and reputation. 
"Lavender Haze," the first song on Midnights, quickly dispenses with people's unrealistic expectations for celebrities. She sings, "No deal / The 1950s sh*t they want from me." It's a song very obviously about being watched, "I been under scrutiny / You handle it beautifully." 
Most of us aren't pop stars, which makes it difficult to understand how fame feels in its entirety. Swift sheds light on this closed-off topic by singing about constantly feeling under pressure.
Later in the album, on "Mastermind," Swift displays a different side of the love she's referenced since her debut album, Taylor Swift, in 2006. Swift has often portrayed love as something that happens to her. From "You Belong With Me" to "Don't Blame Me," she is simply a byproduct of romance's whims. The "Mastermind" track explores a new type of love, with Swift at the command. She sings, "What if I told you none of it was accidental," and "It was all by design / 'Cause I'm a mastermind."
Featured on Midnights (3am Edition), "Would've, Could've, Should've," is seemingly a follow-up to 2010's "Dear John," portraying the complexities of a teenage girl's relationship with a manipulative older man. In "Dear John," she sings, "Don't you think nineteen's too young / To be played by your dark twisted games," following up with "And I damn sure never would've danced with the devil / At nineteen" in "Would've, Could've, Should've". 
Swift has been publicly open about abusive relationships with older men throughout her career. In her recent rerecording of "All Too Well (10 Minute Version)" released on Red (Taylor's Version) in 2021, a music video portrayal shows a young girl in a difficult relationship. She sings, "You said if we had been closer in age, maybe it would have been fine / And that made me want to die." 
Midnights is Swift's first album to be recorded entirely with Jack Antonoff, an American singer, songwriter, and record producer. Antonoff first came on board with the single "Out of the Woods" from Swift's fifth studio album, 1989, and worked on reputation, Lover, folklore, and parts of evermore. 
Overall, Midnights represents Swift's re-exploration into the pop music genre, shifting away from folklore and evermore. She has avoided returning to the country-pop genre she began her career with, which would suggest a continuation of pop music for the foreseeable future. 
Taylor Swift does three things best; denounces haters, writes moving lyrics, and produces songs you can dance your heart out to. Midnights is the ultimate combination of all three.
Leave a Comment