Actors Cast a Look Into Magical Fall Play
This fall, Rockville's drama department is performing the comedic production "Puffs.""Puffs" premieres on Nov. 18 at 7 pm, with shows following  on Nov. 19 at 1 and 7 p.m. 
"Puffs, or Seven Increasingly Eventful Years at a Certain School of Magic and Magic," as it's officially known, or just "Puffs" for short,  is a comedic parody on the classic book series Harry Potter by J.K. Rowling. 
"Legally speaking we can't say the names Harry and Potter together, but there is a character named Harry," producer and co-technical director Dana Sato said. "The play actually has nothing to do with J.K. Rowling, it's just a spoof."
The play follows Wayne Hopkins, a regular boy who discovers he has magical powers. Wayne then ventures to magic school, is sorted into the "Puff's" house, and makes many new friends along the way. 
"You'll hear things like 'Puffs' and the other houses like 'The Braves', 'The Snakes', 'The Smarts'," Sato said. 
The play will be performed inside the auditorium, unlike Rockville's 2021 fall production which was showcased outdoors due to Covid. Tickets are $10 per adult, and $7 per student. 
"Most of the people in the cast are underclassmen, so they all know each other pretty well and feel comfortable around each other," senior and lead actor Raven Lee said. 
The cast consists of 10-15 students, with 25-30 part of the stage crew. Actors have been preparing by learning lines and stage directions, while stage crew creates sets and makes costumes. 
"One thing that we need to work on are British accents," Sato said.  "We haven't even touched those yet."
Sato recommends "Puffs" for those middle school-aged and above. Featuring some colorful language, the play is somewhat more mature than a typical school production.
"The directors are always a pleasure to work with," senior and lead actor Bryan Ribeiro said. "Mr. Gowen, Ms. Sato, they're always very supportive and work well with the students."
Even for those with limited knowledge of the Harry Potter series, "Puffs" is ultimately a comedy. Filled with jokes, humor, and 90s references, everyone will have a good laugh. 
"I always advocate for supporting the arts in schools," Sato said. "It is a comedy, it's a well written script. It'll be a really fun time." 
Leave a Comment
About the Contributor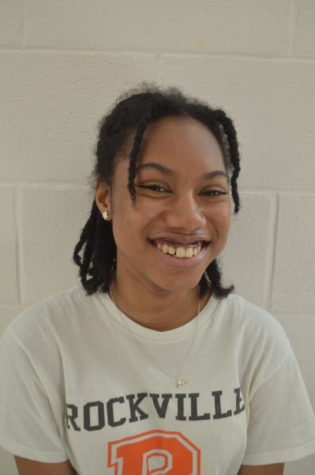 Malaak McDonald, Production Head
This is junior Malaak McDonald's second year working with the Rampage and her first year as Production Head. She enjoys writing features and is looking...