Model Ram Winners Announced at Varsity Sports Banquet
The Model Ram award has been given out at RHS for 46 years and is the top honor a student-athlete can receive. The Model Ram award recognizes top student-athletes that embody what a high-achieving Ram looks like. 
To be considered for candidacy, an athlete must be a senior; coaches then nominate senior athletes to the Booster Club for consideration. Upon consideration, the Booster Club looks at things like GPA and student service learning, as well as who seems to have the highest character and most discipline. Student-athletes must also write an essay explaining why they should be chosen as the Model Ram. 
 Nominees must be able to do well on the field and show that they are a well-rounded student, multi-sport athletes are highly considered when choosing the recipient of the award.  
This year a total of twenty-one student-athletes were nominated, at the varsity sports banquet on May 26, senior athletes Elizabeth DiFonzo* and James Weiler received the award.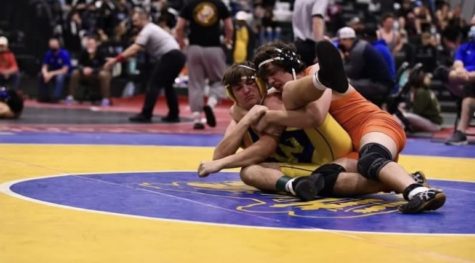 Elizabeth DiFonzo played on three varsity sports teams this year including soccer, basketball, and lacrosse. She has been very active in the school community, participating in several other extracurricular activities in addition to her sports. 
"Things like the rampage and running the school's spirit section, The Inferno, really made me close with the student and staff body. Sports are also something I've always really been into at RHS," DiFonzo said.
James Weiler was captain of both the golf and wrestling teams and has been an outgoing student who participated in advanced classes.
"While playing multiple sports, I took IB and PLTW classes, maintained a high GPA, was involved in a variety of clubs, and regularly volunteered," Weiler said. 
The Model Ram Award represents what an active and involved student looks like, setting the standard for top athletes at our school. For younger athletes hoping to earn the award in the future, it's important to get involved in the school community as early as possible.
"Just participate in sports no matter what. You do not have to be the star of the team or the captain to have a great sports experience,." DiFonzo said.
*Elizabeth DiFonzo was previously editor in chief of The Rampage prior to the publication of this article.
Leave a Comment