RHS Artists Showcase Work in 2022 Exhibition
The art show kicked off  April 7, where Rockville High School (RHS) art classes had their first in-person art show since 2019, showcasing student artwork on panels set up in the main hallway, stretching towards the art classrooms. 
"I thought it was really lovely to see the parents with their students in person, and that was really nice," art teacher Christine Bang said.
Last year the art show was adapted to be digital, with spotlights on the art department's Instagram page and website. These pages are still up and each course has its own individual page in detail. 
Each year, the art department collaborates to make sure the different art classes are represented in the art show. There was less 3D art on display this year as the art gallery is being used for COVID-19 screening.
"We make sure that every art course in the department is represented," art teacher Connie Zammett said. "Everybody has, you know, a certain number of panels to fill. And, depending on the class, then, you know, to the teacher's discretion, they curate artwork from those classes to be displayed."
Seniors in intermediate or advanced art classes, or AP art students may have their own panel with their name mentioned on top, and an artist's statement, filled with their artwork of choice.
2D Studio Art 2 student Gloria Pauwels, had a couple pieces on display, one of them being a mixed media piece, titled Inescapable. 
"It's a metaphor for when you're trying to close the door on something like in your past, or like just something that's been kind of reigning over you and taking over your life," Pauwels said. "And then you can't and it, like, comes back and is like, 'Guess what? I'm here to stay, you can't get rid of me.'"
The assignment was to take a picture of a window or a door with a 2 point perspective and use that for a metaphor.
"That was the first thing that came to mind for me, but a lot of people were really creative with it." Pauwels said, "They used, like, windows as like, 'This is a view into my life.'"
Furthermore, AP 2D Art and Design student Melina Hardison, had a panel with several of her pieces on it, including her acrylic painting titled Blue.
"My idea behind it was mostly that I wanted to have a piece that was in one color or one tone," Hardison said. "I wanted to represent the emotion of just being isolated or basically in a void because it is just a dark background."
The assignment "Selected Works/Larger Art Piece" gave students a lot of room to decide what path they wanted to take and what themes they wanted to explore.
"We had the creative freedom to basically go in whatever direction we want, and that's usually what it is with most of the assignments in that class," Hardison said. "You have the creative freedom to go in a bunch of different directions if you want to."
Students don't really get to pick which of their pieces go in the art show, the object is to showcase as much student art as possible, showing the community what art students are working on, and giving students the experience of sharing their work with the public.
"The show is really like an exhibition of effort," Bang said. "I do think it is still very important for students to understand the process of what it looks like to be chosen, to have your artwork chosen."
Art students also get the opportunity to see art from other classes that they wouldn't necessarily get to see while they're working. 
"I think it's an opportunity for everyone to have a chance to showcase their art, who may not have the chance otherwise," Pauwels said. "And it's an opportunity for everyone else to see, like, the cool stuff we're doing in the art classes."
Students explored themes like depression, isolation, body dysmorphia, and more with their work this year, and the art show gave people the chance to connect with that art.
"I heard over and over again that people felt seen or heard when they saw the artwork, and to me, that's just a great success," Zammett said.
Leave a Comment
About the Contributor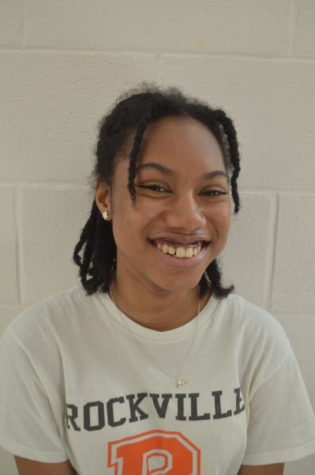 Malaak McDonald, Production Head
This is junior Malaak McDonald's second year working with the Rampage and her first year as Production Head. She enjoys writing features and is looking...