Four Female Wrestlers Join RHS Team
Hearing of female wrestlers is unusual, but at Rockville High School (RHS), four females are on the 2021-2022 junior varsity wrestling roster. With hopes to stay in shape for the off-season, sophomores Anastasia Dakoulas, Kendra Wells, Stefanie Barrios, and Aaliyah Gorham joined the wrestling team. 
"I am going to be off soccer for 1 month, and I wanted to stay active," Barrios said, "Wrestling looked very fun and interesting."
Allowing females to go into a male-dominated sport at the high school level can be nerve-wracking for many parents, especially for underclassmen.
"My parents, at first didn't want me doing it. They were heavily against it. But I convinced them," Barrios said.
Not only is the sport male-dominated but there is a concern for injury in such a physical sport. 
Dakoulas adds that her parents "thought I was crazy and that it was going to be too dangerous."
With there being only four females on the team, the four have all grown closer to each other as they participate in drills, attend practices, and share a locker room.
"I think since there's only four girls on a team of twenty-something, we've just gotten closer to each other than any of the boys," Wells said. 
Nonetheless, the male teammates have been engaging with the four females by helping them adjust to the new environment. The boys have been supportive by making them feel welcomed and teaching them new moves. 
"The boys are very interactive and always want to help," Barrios said, "As well as the coaches always checking in." 
In addition, the coaching staff is making sure the females are still treated the same and held to just as high standards as the males.
"I don't feel like I am treated differently," Barrios said, "We do the same thing the boys do, and the rules apply to all."
Only being a few weeks into the season, the females are enjoying this opportunity to play, saying it makes them feel powerful while helping them gain discipline and knowledge. These four have described this new experience as positive and are already planning on trying out next year. 
"Wrestling has been so much fun, very tiring but still fun,  the guys on the team are always willing to help us get better, and during matches, they go crazy on the sideline," Wells said. 
Leave a Comment
About the Contributor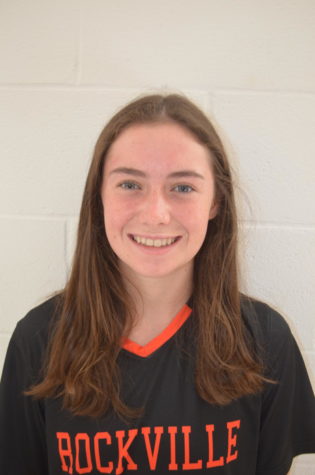 Colleen Kelly, Staff Writer
This is Junior Colleen Kelly's first year on the Rampage as a staff writer. Colleen is excited to start the journalism program as she will work on writing...