Foreign Language Teachers Bring Diverse Experiences to RHS
There are many teachers at Rockville high school who take pride in teaching and bring something unique to the diverse community at Rockville.  Amongst the staff, a few of the foriegn language teachers come from different countries across the world; including Spanish teacher Chloe McCallum and French teacher Theophile Awana.
McCallum lived in Dubai, United Arab Emirates, for thirteen years. Her father's profession moved her family from the United States to Dubai in her early childhood. Being foreign came with its set of challenges for McCallum. 
As a Caucasian-American, McCallum lived as an ethnic minority in Dubai where over 76% of the population are Emiratis , according to the U.S. Department of state. McCallum struggled to find common interests with the other kids in her city. 
She initially began schooling at a British school, followed by the American Academy for girls. Her parents had high hopes for her and understood the value of education. 
McCallum's family prioritized her education and inspired her to achieve her goals. She graduated from the University of Maryland in 2016 and is currently working on her masters degree there. 
Teaching has always been a passion of hers. Her end goal is to become a professor at a research university. As a young adult Mccallum has big goals in terms of her career. 
McCallum comes from an education-oriented family, with both her parents now working in teaching positions. 
"It was kind of an easy choice for me because both of my parents are in academia at this point now," McCallum said. "so I've kind of had a first hand view of what this is like as a career."
McCallum has loved teaching and making a difference at RHS since beginning her tenure eight months ago. 
"I would say the kids are my favorite part. I really enjoy feeling like I make a difference at least in some way, and obviously, like, getting to know you guys has been great."
Theophile Awana, a French teacher at RHS has an inspiring story about growing up in Cameroon. Awana teaches at Farquhar middle school in the morning, and then comes to teach French four, five, and six here at RHS.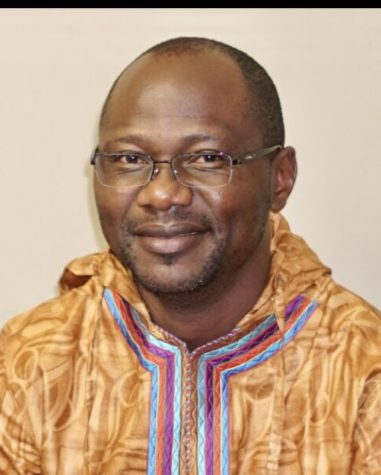 Awana acquired a bachelor's degree in Cameroon. He migrated to the US in 2009 due to the Diversity Lottery program —  program that helps immigrants come to the U.S. Although he was grateful for the opportunity to move, he originally wanted to settle in Canada where there is a larger French-speaking population. 
After moving to the United States, he lived in four different states acquiring diplomas, skills, and \experiences. 
Each new location has given him insight into the differences between the U.S and Cameroon.  
"Oh, it's a huge difference, in many, I think in all areas of life like education, health, infrastructure" Awana said. "[The US is] the most powerful country in the world, you can't compare it to Cameroon."
Awana was also ambitious with his goals for the future. He has always prided himself on education, as it was a huge part of his childhood. 
"Oh yeah, I really, since I was a young boy," said Awana. "I have to be a doctor." 
Life was not always like this for him. He explained that  up in Cameroon was a struggle sometimes.
"I remember when I was in elementary or in high school, or even at university, I didn't have lunch sometimes," said Awana. "Here students have everything… I always tell them take advantage of that." 
Awana prides himself on teaching at RHS where he has been teaching for eight months.
"I do like it here, because I'm surrounded with very supportive people.'' 
Awana is now completing his PHD program, a great accomplishment that has taken him over eleven years of schooling. He is very excited for what the future might hold and overall he has a very optimistic outlook on life. 
  "In your life, in your life love everybody, don't judge people," Awana said."Always believe in yourself."
Leave a Comment