Meet Shang Chi: Marvel's Newest Addition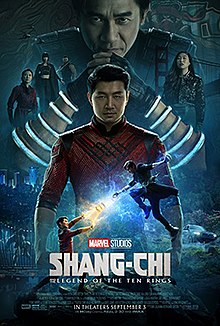 Shang Chi, played by Simu Liu is the newest addition to the Marvel Cinematic Universe, but does he have what it takes to become a member of the New Avengers? This new solo movie was highly anticipated by fans and was worth the wait. Marvel managed to make yet another fan favorite superhero we can imagine seeing on Halloween for years to come.
Shang Chi and the Legend of the Ten Rings, which takes place after End Game, introduces Shang Chi, the son of an international crime lord called The Mandarin. Shang ran away from his father's syndicate at an early age, choosing to live a quiet life in San Francisco until a mysterious postcard from his seemingly dead mother brings him to confront his past alongside his newly found friend Katy.
The overarching theme of the movie has to do with family and how you should acknowledge your sins and shortcomings. Shang Chi is a flawed character, being raised as a baby to be an absolute killing machine. Consequently, Shang throughout the movie is forced to resolve his dark childhood and dysfunctional family.
Shang Chi and the Legend of the Ten Rings has a lot going for it. The various fight scenes are incredibly well choreographed, the CGI and practical effects are stunning, and the characters are likable and relatable. Fans of the comics have had a positive reaction to the adaptation of Shang Chi onto the big screen.
The few downfalls of the movie start to arise near the end. While the beginning of the movie is more martial arts-focused,  the end  shifts focus to the mystical realm of Ta Lo. This is where the movie devolves into a mystical showdown between The Mandarin's forces and the citizens of Ta Lo. The sudden introduction of magical elements can be off-putting to many, especially those who have not read the comics.
As for a sequel, the chances look phenomenal. Shang-Chi and the Legend of the Ten Rings has brought in a $387.5 million profit (in comparison to the $150-200 million production costs). Shang Chi is a box office hit, so a sequel isn't hard to imagine.
Ultimately, Shang Chi is a great movie that holds entertainment value from start to finish. It takes little to no previous Marvel experience to understand and enjoy the premise, but Marvel fans will still have plenty of easter eggs and callbacks to previous titles.
Leave a Comment