COVID-19 Vaccine Mandated for Winter, Spring Athletes
On Sept. 9, Montgomery County Public Schools released a community update stating COVID-19 vaccines will be required for students to participate in winter and spring sports. 
The mandate goes into effect on Nov. 15, meaning students would have to have received both vaccine doses by Nov. 1. 
When students register for winter and spring sports, uploading proof of vaccination through ParentVUE is mandatory. If a student is not vaccinated or is not fully vaccinated, they will be disqualified from participating in winter and spring sports. Although students can receive a medical exemption, this is only if they have a note from their physician.
MCPS's mandate aligns with the advice given by the American Academy of Pediatrics and the American Medical Society for Sports Medicine. Student-athlete Jocelyn Caceres said she felt relieved and reassured after hearing about the mandate. 
According to the update, MCPS implemented the mandate to allow sports to run with fewer disruptions and protect the safety of everyone on the team. 
"Having people come in and out of practice and games is kind of depressing," Caceres said, "Figuring out positions and plays while the team progresses makes things a little more difficult. There is less connection within the team."
Although RHS poms coach Erin Kelly never felt uncomfortable around her athletes during the fall season because of COVID, she still hopes the mandate will be effective.
MCPS also feels that this will be key to keeping COVID numbers down and allowing schools to stay in person. 
In the newsletter, MCPS stated that their top priority was to keep everyone safe. "I think we should do whatever we need to do to keep ourselves and each other safe." Coach Kelly said.
Even though Montgomery County already has 89.6% of 12 and up fully vaccinated, and 98.9% of people 12 and up have at least one dose, Caceres believes, "it will leave a good dent in having people get vaccinated and lowering Covid cases."
Not only will this mandate help keep covid numbers down, but Coach Kelly plans on doing more team bonding activities with her athletes now that everyone will be vaccinated. This will help the team build a stronger connection and hopefully perform better, she said.
Leave a Comment
About the Writer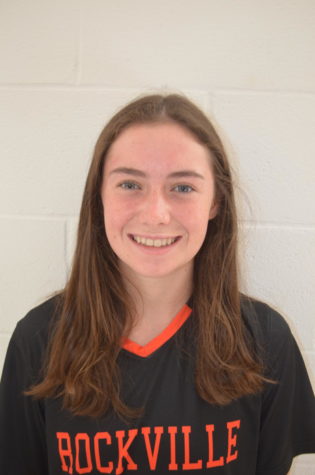 Colleen Kelly, Staff Writer
This is Junior Colleen Kelly's first year on the Rampage as a staff writer. Colleen is excited to start the journalism program as she will work on writing...