Martinez Shifts From Saving Goals to Scoring Them
It's not often you see a fourth year varsity athlete abruptly quit the sport they have played since they were five to try something completely new. For senior Juan Martinez, that's exactly what he has done, opting to forgo his senior year as the starting goalkeeper for the talented boys' soccer team. Instead he is taking his kicking talents to the gridiron as the varsity starting kicker for the undefeated Rams football team. 
Martinez has played soccer since the age of 5 but until last year has never played football. His impressive reflexes and shrewd decision making foreshadowed his skills on the football field. 
Due to COVID interrupting last year's sports seasons, Martinez took his first steps on the football field during an abbreviated season instead of the soccer field. Although this is Martinez's first real football season, he luckily had some time to prepare last year.
Martinez switched to give himself a better chance to go to college, as well as try something new.
"I have always loved watching and playing football, and I've wanted to be a kicker since 8th grade," Martinez said.
As the team's kicker, his primary responsibilities include kick-offs, extra points and the occasional field goal attempt. Martinez is also working on punting. 
"Having a kicker and a punter all in one guy differentiates RHS from other teams," varsity coach Jason Lomax said.
Transitioning from soccer to football was nerve-racking. It was a hard decision for Martinez to make because he didn't know how his family would feel about him giving up the sport he has loved since his youth. Luckily, Martinez said, they were happy for him and supported his decision. 
"There are a lot of people that don't agree with my decision, which is okay because it only motivates me more to get better," Martinez said.
Luckily, Martinez has not quit soccer for good. He is still playing outside of school on his club team 'Pachuca'. The coach on his club team is the same for Rockville Varsity Boys Soccer team, Julio Zarate. He gets to see some of his old teammates and coach on weekends, and play football during the week, making it a good balance.
Martinez's big kick benefits the football team when they need it most and his teammates praise his reliability.
"Juan brings the energy to special teams. He will help us get to at least top 3 in the county by making clutch field goals and the extra points we really need," Cubias said. 
Moving forward, Martinez hopes to pursue football in college. He is currently training and taking the steps he needs to get noticed by colleges.
"I think I have what it takes to play in college, and I'm only getting better. I think [football] will play a big part in my life," Martinez said. 
Overall, Martinez does not regret his decision to switch to football as the team has become his family. Everyone is loyal to each other and the coaches are amazing. The work ethic is so much different from soccer, he said.
The team has high hopes for the season as they wish to win multiple playoff games and make it as far as they can. And with any luck attempt to win states.
"We can all do it if we come together. This team is capable of so much and I'm excited to see where the season takes us," Martinez said.
Leave a Comment
About the Contributor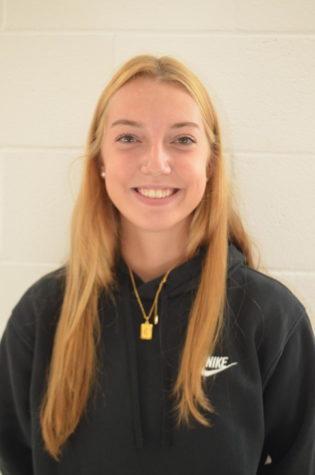 Elizabeth DiFonzo, Editor-in-Chief
This is senior Elizabeth DiFonzo's first year as an Editor-in-Chief for the Rampage after being a Sports Editor for two years. This is her fourth year...