If These Halls Could Talk: Assistant Principal Marcus Wiggins
This fall, you may have seen your former math teacher roaming the halls in between periods and wondered what he's doing. Doesn't he have a class to teach? Well, he's a math teacher no more. Say hello to your new assistant principal, Marcus Wiggins.
Wiggins joined Rockville High School five years ago as a math resource teacher. Now as our new assistant principal, Wiggins plans on using the wisdom and skills acquired from his years of teaching math to further advance Rockville: a community of learners he admits to taking great pride in. 
"We honestly have the best students in the county," Wiggins said. "Students have been wonderful at this school rolling with the [COVID-19] guidelines." 
Wiggins, a local, grew up in the District of Columbia and has loved math ever since he could remember. His mind was first set on becoming an engineer, but after college, he decided he wanted to become a math teacher. Wiggins received his Bachelor of Science Degree in math education from the University of British Columbia, and after teaching for a few years, he received his Master of Administrative Education from George Washington University.
Wiggins recognizes the immense effect teachers have on their students, as he experienced it himself at a young age when one of his teachers praised him for his math skills.  
"It was a 3rd grade before school enrichment program. They asked students if they wanted to come in before school," Wiggins said.  "A couple of words from the teacher potentially set my path. My path was set. I love this."
Neither of them knew it then, but those words at the before school enrichment program stuck with Wiggins and helped drive him towards math and education. As an educator, Wiggins cherished the times in the classroom and the opportunity to mentor his students.
 When Wiggins received his Master of Administrative Education, he first set it aside and continued with teaching. After several years teaching at other schools, he came to Rockville where he has been for the past five years.
When Wiggins first heard of the need for an assistant principal this year, he decided to put his degree to use and pursue the opportunity. He was offered the position and accepted,  although it was a tough one to swallow.
"The first day saying yes to being an assistant principal. I was driving home and realized that means I'm not doing something I've done for 25 years, you know I won't be able to continue that."
Wiggins has such a passion for teaching, his transition to administration was unexpected by some of his coworkers.
"The position change actually took me by surprise," paraeducator Farron Riggs said. "I wouldn't have been surprised if he had stepped down to just teach again and be in the classroom, but I did not expect him to take an admin job. Whatever the position, he'll do a great job."
Wiggins' former students were ecstatic to hear the news. Many wish him the best of luck and can't wait to see him in a new environment. 
"I feel that he is fit for the position," senior Ashley Botero said. "He has always been very good at teaching and keeping everyone in line and I feel that he will do amazing as assistant principal."
Leave a Comment
About the Contributor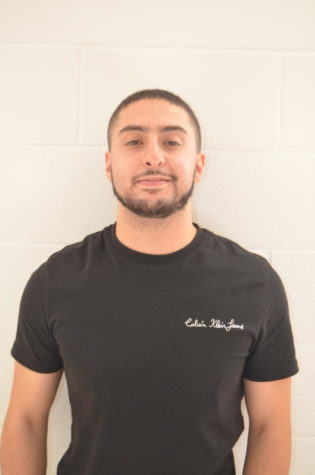 Ahmad Haleem, Editor-in-Chief
This is senior Ahmad Haleem's first year as Editor-in-Chief with a focus on Opinion and Feature pieces. He was previously an Opinion Editor junior year....