RHS English Teacher Overcomes Dyslexia on Unlikely Path to Classroom
Ms. Krista McKim never thought she would be a teacher, after all, she grew up struggling with dyslexia. Now, McKim teaches AP English Language and Composition, advises the yearbook, and supports students that may be facing struggles similar to those she experienced as a child.
McKim's vision problems and dyslexia hindered her reading ability when she was young and impacted her teachers' opinions of her abilities as a student.
"Growing up I had a lot of trouble reading. My teachers said I was a nice kid but not very bright. My parents refused to believe that, and they took me to doctor after doctor to find someone who could help," McKim said. "The problem was that I had vision problems and dyslexia. Most doctors didn't know that they could come together." 
She saw several doctors, but did not quickly find a solution. It was not until her parents found her a doctor who had been doing research on vision and reading problems that she would receive treatment.
"[My mom] drove me to his office a couple of times a week to do vision therapy, and then I had to do exercises at home. They were intense, I had to jump on a trampoline and say what letters I saw," she said. "I was very lucky that my parents were able to take the time to drive me for all those years. At the time, I didn't appreciate it and I thought it was torture."
Eventually, McKim reached sixth-grade and found she could finally read with success; she hasn't stopped reading since. She was grateful for the treatment she received, as it finally allowed her to read like everyone else in her class.
When McKim reached high school, she was told that she could not take honors or AP classes since she received special education services. Instead of letting this discourage her, McKim worked hard to eventually be allowed into those courses.  
McKim wanted to change the world, so she received a degree in peace studies and communication studies at Chapman University. After undergrad, she worked at the Death Penalty Information Center (DPIC), an organization that tracks death penalty cases and researches the death penalty in America. At the DPIC, she volunteered at high schools and fell in love with the environment teaching has to offer. 
"I know that helping students reach their goals changes the world and that's what I do everyday," McKim said.
McKim went right back to school at the University of Maryland to work towards a masters in education and her teaching certification. McKim finds joy in helping students reach their full potential and change the world, which her students appreciate.
 "She's wonderful, super supportive and encouraging. In AP Lang she always tries her best to teach us new techniques and strategies. In the yearbook she encourages and helps us be more creative," said junior Bailey Banfield. 
Leave a Comment
About the Contributor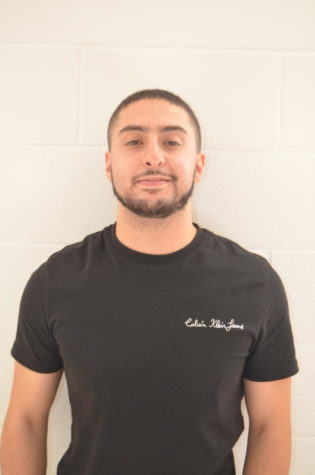 Ahmad Haleem, Editor-in-Chief
This is senior Ahmad Haleem's first year as Editor-in-Chief with a focus on Opinion and Feature pieces. He was previously an Opinion Editor junior year....