RHS Athletic Trainer Brings Laughter During Pandemic
For many of the staff and faculty at RHS, their workday is rather regimented and routine. When asked where they will be at a specific time of the day, the chances are they will tell you exactly where they will be and what they will be doing. For RHS athletic trainer Rob Kambies, routine is the exact opposite of what he has dealt with during the COVID-19 pandemic.
Kambies is actually not a MCPS employee, in fact, he works as an employee at Adventist HealthCare, which has a contract with MCPS to provide training services to the county's high schools. 
When the pandemic hit, Kambies did not have the same job security that other RHS teachers had. In other words, there was no "virtual" athletic training job for Rob when everyone was busy distance learning. Thankfully, his employer was able to assign Kambies to other jobs to keep him busy and, more importantly, employed.
Kambies has been doing a little bit of everything. He has worked at physical therapy clinics, as well as the front desk at urgent care clinics. He has worked in a hospital answering phone calls regarding COVID-19. He has helped stroke and spinal cord patients; he has even helped other health care providers get properly fitted with personal protective equipment so they can work with COVID-19 patients.
At RHS, Kambies is best known as the fun athletic trainer, who loves to interact with all the students he sees. He is the trainer for every sport, helping athletes with their physical issues and injuries, typically on standby at each home game. Students are very appreciative of Kambies efforts to prevent injuries and have gotten to know Kambies after spending so much time with him. 
"Rob is the best. He makes us all laugh and is very chill and down to earth. He is so easy to talk to," senior baseball player Scott Ekenrode said. 
Not only has Kambies made quite an impact on the students, but the students have also made an impact on him. Kambies loves to watch students mature and improve their athletic skills.
"My favorite part of the job was getting to know all the athletes; watching so many of [them] grow from freshman to seniors," Kambies said. 
Kambies has left an impressive impact in many students' lives at RHS, junior cheerleader Bailey Banfield said. 
"He's like a built in friend. He always helps us get all taped up but we all share stories and have a good laugh with each other; he's very well liked within the school," she said.
Throughout the pandemic, Kambies has proved to be extremely versatile and take on multiple roles.
"Rob seems like a very adventurous person that has a positive outlook on life. Every time I've talked to him he's been so nice," sophomore Noah Ohayon said. 
Leave a Comment
About the Contributor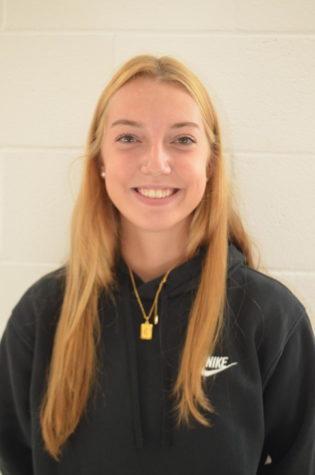 Elizabeth DiFonzo, Editor-in-Chief
This is senior Elizabeth DiFonzo's first year as an Editor-in-Chief for the Rampage after being a Sports Editor for two years. This is her fourth year...