Buccaneers Blowout Chiefs in Historic Super Bowl
The Tampa Bay Buccaneers made Super Bowl history Sunday, Feb. 7, defeating the Kansas City Chiefs 31-9 and becoming the first team to play and win the Super Bowl in their home stadium. 
The Chiefs, who won the Super Bowl last season, managed to score first, putting up a field goal on their second drive (offensive possession). However, the Buccaneers responded in a dominating fashion, especially on defense. The Buccaneers' defensive line only sacked Chiefs' quarterback Patrick Mahomes three times, but they pressured him a Super Bowl record of 29 times, according to ESPN Stats & Info. 
With Mahomes almost constantly under duress, the Buccaneers defense also recorded two interceptions, preventing the Chiefs from scoring a single touchdown.
"It seemed like Mahomes was pressured on every single snap," senior DJ Flowers said. "He still managed to make some great plays, but was let down by his receivers who had a lot of bad drops."  
Another important factor in the Buccaneers' blowout win was the Chiefs' penalties, particularly on defense. The Chiefs committed 11 penalties for 120 yards, which the Buccaneers capitalized on. 
Each of the Buccaneers' touchdown drives in the first half were aided by at least one Chiefs' penalty. For example, a holding penalty reversed a play during the Buccaneers' second touchdown drive during which Brady threw an interception to Chiefs' safety Tyrann Mathieu.
"The Chiefs made it easy for the Buccaneers with all of their mistakes. They never could've won with the amount of times they bailed out the Buccaneers offense," junior Matt Vafa said.
Amid the Buccaneers' historic win, Tampa Bay quarterback Tom Brady established records of his own, earning his seventh Super Bowl victory to place himself ahead of every NFL franchise. 
In his seventh win, Brady passed the six-time champion Pittsburgh Steelers and New England Patriots, whose six titles all came during Brady's twenty-year tenure in New England. Brady's three-touchdown performance also earned him his fifth Super Bowl MVP award, the most of any player.
"I always thought of Brady as the GOAT (Greatest of All Time), but now no one can deny it," Flowers said. "His seven Super Bowl wins might never be matched and he is still not done yet somehow."
Already this offseason, the Buccaneers have added one year to Brady's contract and resigned or franchise tagged many of their key players. As the offseason progresses, the Buccaneers are primed to attract additional high profile free agents as they look to strengthen their team and repeat as Super Bowl champions next season.
Leave a Comment
About the Contributor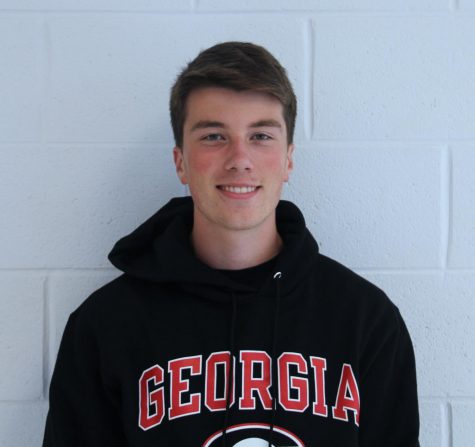 Brendan Stewart, Sports Managing Editor
Brendan Stewart is a junior at RHS. This is his first full year on the Rampage after taking Intro to Journalism last year. Along with being Sports Managing...