Ram to Watch: Morgan Ward
With sports cancelled this fall due to COVID-19, varsity soccer player and junior Morgan Ward could have taken a break; instead, she is working harder than ever to improve on the field and achieve her goal of playing at the college level.
When Ward first heard her season was cancelled, she was disappointed, but chose to make the best of it. She is using this time to her advantage to get stronger and faster as a player and athlete.
"It was hard at first, but I learned not to give up and not let this virus take a toll on how I develop as a player," Ward said. "Taking initiative and practicing on my own has really affected my mindset to keep going."
Ward has been playing soccer for almost her entire life, starting from when she was just three years old. Both of her parents encouraged her to play the sport, but it was her father, who also played soccer as a child, that truly guided her love for the game. For RHS, Ward plays center midfield and forward.
"Morgan is definitely a standout player for RHS," sophomore teammate Emma Orsini said. "She is incredibly tactical and she has that discipline that not many players have. She is super quick and is able to adapt in any situation."
Ward's favorite thing about soccer is the escape it provides from the stress and pressures of her daily life. She also loves the friendships she's formed with teammates, coaches and trainers, she said.
"Life can be stressful but when you are doing something you love and something you have so much passion for, the stress goes away," Ward said. "That's how I feel about soccer."
Outside of RHS, Ward plays on two other teams: Baltimore Armour Academy and the Olympic Development Program (ODP). ODP is a regional team, composed of players from all over the East coast. For ODP, Ward represents the Eastern Region while traveling overseas to play against other teams. 
Ward practices five days a week, with training twice per day. She starts on her own with strength training and conditioning to become stronger and faster before attending her club team practice later in the day.  After a full practice schedule, Ward continues the momentum by competing in games or tournaments on the weekends. 
Ward hopes to continue playing soccer in college at the Division I level. Her goal is to play for the University of Tennessee Vols.
"Tennessee's program is exceptional and I have always seen myself there," she said.
Leave a Comment
About the Contributor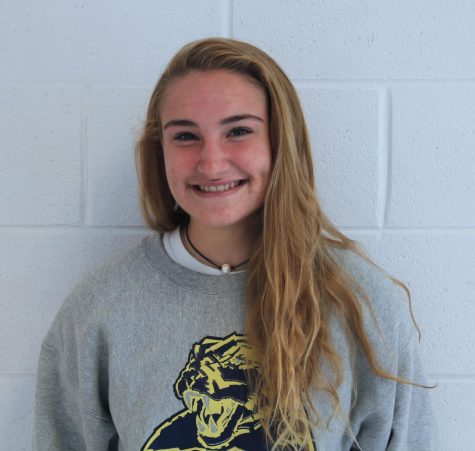 Paige Krawczel, Staff Writer
This is junior Paige Krawczel's first year on the Rampage staff as a Staff Writer . She has been part of the journalism program for two years now, and...