Rising COVID-19 Cases Stall Reopening Plans for Special Programs in January
Following a Nov. 6 meeting, the Board of Education (BOE) released an announcement to MCPS families and staff regarding the official framework for back-to-school learning.
Though initially hoping to bring back some students as early as Jan. 12, 2021—before the end of first semester—the BOE voted Dec. 15 to delay a phased-in return and in-person instruction until at least Feb. 1, 2021, using a health metric model to monitor COVID-19 in the county. Among the first group of students to return will be certain special education programs, career and technology groups and other special student populations, according to the framework. 
In the model, data is calculated using an estimated population of 1.05 million residents in Montgomery County. If the rate of COVID-19 cases is less than five percent, the likelihood of hybrid learning increases; rates greater than that begin to decrease the possibility of in-person learning. 
"We can move to the next step if the health metric allows it," MCPS superintendent Jack Smith said during the Nov. 6 meeting. "The metrics in the last few weeks have not been as positive as we would like for them to be … but that doesn't mean we're not going to continue to plan, work and move forward with our goal to begin bringing students back."
In Maryland, COVID-19 cases are rapidly increasing, reaching up to three thousand cases for the first time Dec. 4—the highest it has been throughout the entire pandemic, with roughly a seven percent positivity rate. In Montgomery County, the rate is slightly above six percent. As COVID-19 cases continue to rise, experiencing its third and worst wave yet, students and staff question whether or not MCPS will reopen. 
"At this rate, I'm not very hopeful of returning back to school," SGA president Gabby Diaz said. "It would carry many negative consequences for families and staff … It really depends on the situation; we have people who are high at risk, have large families and others who struggle with mental health issues due to isolation."
To alleviate some of these concerns, MCPS sent out a survey asking whether or not parents want their child to attend hybrid classes or remain strictly online.
New guidelines have also been issued for the state of Maryland to follow by Governor Larry Hogan. Starting Nov. 20, restaurants reduced capacity from 75 percent to 50 percent, restaurants have a 10 p.m. curfew and residents are discouraged from traveling out-of-state.
Following suit, County Executive Mark Elrich recently banned indoor dining Dec. 15, as Montgomery County is one of the most impacted areas in the state. 
"It is very concerning that the numbers are going back up in the county," principal Billie-Jean Bensen said. "At the school level, we are beginning to plan for the possible return of specialized programs and small groups in February … [however], we are aware that the metrics are not good."
As rates and cases continue to fluctuate weekly, it is too early to gauge what COVID-19 will look like within the following months, and whether MCPS' framework will be effective in its timeline.
"I really wish we can return, mainly because I miss the social aspect of school events and seeing my friends," Diaz said. "But also because I want to see my teachers, do my extracurriculars, go to prom, and especially graduate in person. But if missing out on these events means I'm not putting anyone at risk, then I'm completely okay with it."
Leave a Comment
About the Contributor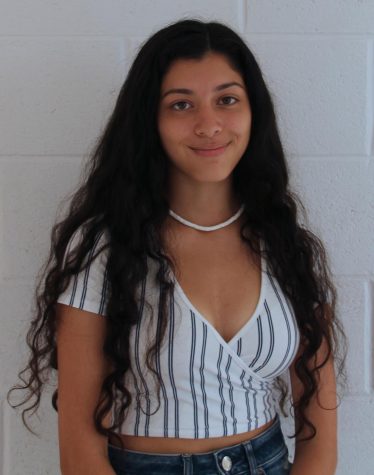 Sabina Salguero, News Managing Editor
This is junior Sabina Salguero's second year on the Rampage. She started taking Intro to Journalism her sophomore year and really liked the process of...