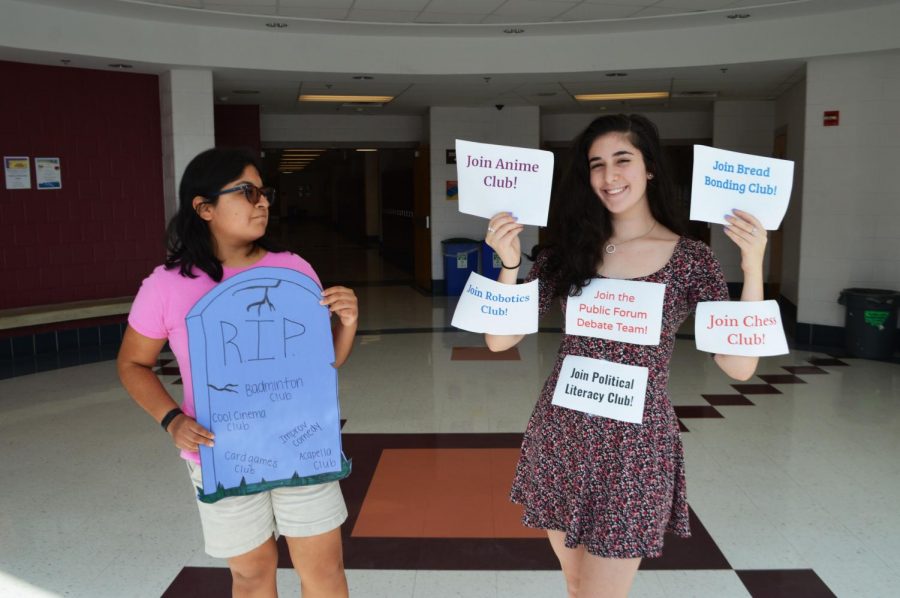 Pro/Con: Should the School Allow Any Club to be Started or Vet Them More?
November 1, 2018
Pro: Should the School Allow Any Club to be Started or Vet Them More?
BBQ Enthusiasts Club, Anime Club, Kazoo Club. These organizations bring students together to celebrate shared interests during lunchtime, after school and even during the weekend.
One thing all of these clubs have in common is that they were created by students. There are over 90 activities and clubs offered to the student body for the 2018-19 school year, according to the RHS school website. Any student should be able to start a club because it gives students a social outlet around a common interest and provides essential leadership and management skills.
In order to get the club approved, students must fill out a club proposal form from the main office with the club sponsor's signature. Assistant principal Monica Abuliak then evaluates club proposals and speaks with the club sponsor, and if approved by her, she will direct the proposal to principal Billie-Jean Bensen for final review.
Many things such as delegation, time management and teamwork can extend through both club management and for when students enter the workforce later in life. High school is the perfect opportunity to begin learning these skills for a smooth transition into a real working environment.
While many students rave about the benefits they acquire through club experiences, there is also data to back them up.  
"It is evident that students who are involved in clubs and organizations during their college experience are also those who demonstrate higher levels of development in many areas," according to a 2006 study by SUNY at Albany in New York.
As well as teaching necessary management skills, creating a club around a passion can provide a social network for students with a common interest.
"Results indicate that when two adolescents participated in the same activity they were 2.3 times more likely on average to be friends than adolescents who were not activity co-participants," according to a 2011 study by Arizona State University.
While some clubs do die off as seniors go to college, as some students create them solely to improve their college application, many student-started clubs are still standing today and are thriving with high attendance, such as BBQ Enthusiast Club, started by Julien Taupenot (18'), now run by junior Lukas Kehus.
Clubs are very important to students' development in social skills and in leadership. If the opportunity for any student to make a club based around something they enjoy is revoked, the opportunity to make friends with a common interest and manage an organization would be also taken away. Clubs are vital to teenage development and students should take advantage of the opportunity to create and lead their own clubs.
Leave a Comment
Con: Should the School Allow Any Club to be Started or Vet Them More?
Currently, students have the power to create a plurality of diverse clubs. This, however, can lead to the creation of numerous unnecessary clubs that do not sustain student interest and eventually fold.
The vetting process to create clubs should be made stronger so that only those who are truly interested in their club's topic will be able to successfully create a club.
When club leaders graduate or are otherwise unable to continue to lead their clubs, it is up to any interested students to decide whether or not the club will be revived for the following school year. Many clubs do not find leaders for the following school year and, thus, simply cease to exist, leaving students lost and confused about various clubs becoming inactive.
One such club was Cool Cinema Nerds. Last year, every Friday, members of this club would sit back and enjoy a classic film in government teacher Elizabeth Seabreeze's classroom. This club, however, did not have a long-term plan to continue past the year.
"I offered the positions to some of my friends but they declined," senior Mortimer Shifflett said. "Me and my fellow club leaders just never got the time to organize something like this since we joined the NHS leadership board."
For many, being the founder of a school club is nothing more than another item to put on college resumes. In the admissions process, colleges do look for extracurriculars, like school clubs, and weigh them in their acceptance process, but the experience has to be a meaningful one.
"Whether community involvement, the arts, sports, work experience, research opportunities, family involvements or other activities and hobbies, you should share only what has been particularly meaningful," according to the freshman application on the University of Maryland College Park website.
In other words, whatever club a student includes in their application, it must be a meaningful one, rather than one that is arbitrary and then dies out as soon as the student leaves or loses interest.
While clubs are important to develop students' social skills and leadership, it should also be important for those clubs to be meaningful not only in terms of a college application but also to the school community for more than just a year. The leadership of the club should be passed on to rising students who are either in the club or interested in it so these clubs grow and become part of the community. But currently there are too many students who start clubs on a whim, only to see them fold the next year. Next time you hear a friend pitching a club idea, help them make sure it is a meaningful one that will last years into the future.  
Leave a Comment