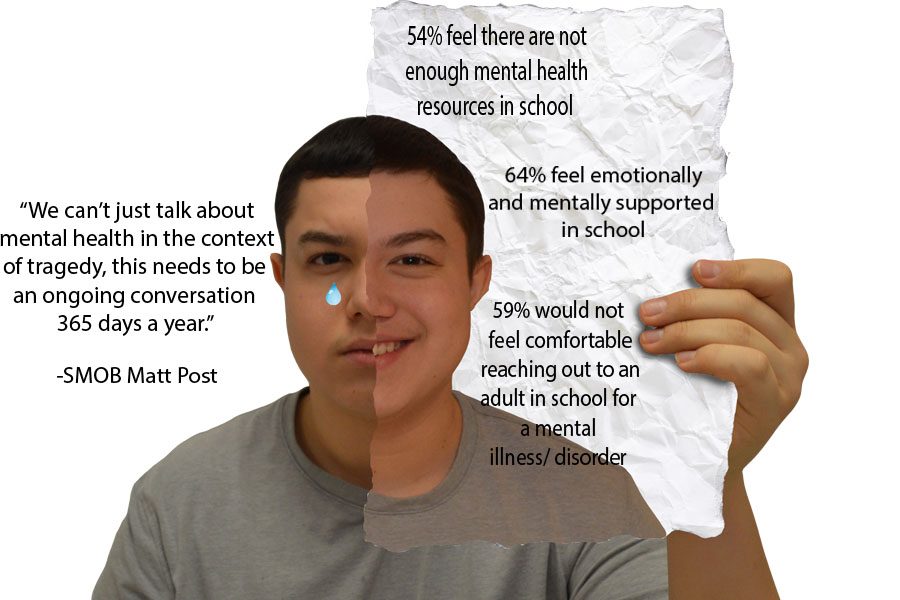 The Disconnect: Students & Mental Health Resources
In light of recent events occurring in the Montgomery County area, an important conversation has been sparked about mental health resources to teens and their accessibility, particularly in schools. In a poll conducted among a sample group of nearly 500 students at RHS, 49 percent of students said they do not feel comfortable reaching out to an adult in school when they are feeling stressed or upset.
Despite the fact that each student is assigned to a guidance counselor, over half of students polled would not feel comfortable reaching out to an adult to discuss a mental illness, even if the adult is trained to discuss mental health.
Guidance counselor James Rowan said that on average, he has two to three students visit him per week to discuss mental health or stress in school, compared with the more common visit regarding scheduling or college.
"The counseling department is here to provide that emotional support as well," Rowan said."We are there to support [students], and having that mental health and that mental well-being is part of what we do to support the students for everything that they need, it's not just about academics."
In addition to each student being assigned to a guidance counselor, there is also a school psychologist assigned to every school in MCPS, and availability of the psychologist varies depending on the needs of each school. In order to get in contact with a school psychologist, students are either referred by a staff member or a parent, or can refer themselves by reaching out to a counselor or a member of administration.
"Our goal is always to have a psychologist available to assist students, especially if they're having mental health concerns, because we are mental health providers in schools," MCPS Director of Psychological Services Christina Conolly said. "We want to be there to assist and provide support to as many students as possible."
The job of a school psychologist mainly includes counseling, crisis support, behavioral consultations and evaluations for students who require special education services, Conolly said. A full listing of the psychologist assigned to each school is available on www.montgomeryschoolsmd.org.
For directly available in-school support, counselors are trained in crisis intervention to help students with any immediate issues they are facing in the moment. While they cannot make recommendations to parents regarding out-of-school mental health resources, they can provide a list of outside counselors who have been used in the past. Counselors can also refer students to free mental health counseling offered by the City of Rockville.
In terms of combatting societal stigmas surrounding mental health, there are different approaches being taken to encourage conversation.
"I think a big part of what we need to do is have open conversations about mental health," student member of the board (SMOB) Matt Post said. "I think destigmatizing this issue is going to be a huge step forward in preventing future tragedies."
In order to move toward achieving this goal, there will be a student forum led by Post on mental health Feb. 6. The county also plans to re-examine and shift current psychological services and to begin a suicide prevention program in all secondary schools, MCPS Director of Communications Derek Turner said.
While there are going to be initiatives to reduce the stigma surrounding mental health in the near future, the fact remains that, as found in the poll, over one third of students do not feel supported emotionally and mentally in school.
"We can't just talk about mental health in the context of tragedy, this needs to be an ongoing conversation 365 days a year," Post said.